If you ask anybody what their favorite large dog breed is, 6 out of 10 times, they will come up with the name 'German Shepherd'. German Shepherds are an all-time favorite! But many genuine dog lovers might come up with Great Dane, Doberman, and the famous Rottweiler. Both German Shepherd and Rottweiler look cute and can be amazing furry friends. But then, which breed is better?
No, no – we won't make them fight each other! But it's always nice to compare and find out the differences. Especially since both originate from Germany!
A Rottweiler is a Molossian Mastiff while a German Shepherd is a Herding dog. Both are large, going around 55-70 cm and weigh about 30-60 kgs.  So, let's find out the other differences:
Rottweiler
Life Span
Rottweilers can live for an average of 8 to 11 years.
Health
Rottweilers are susceptible to certain health disorders. Consult a veterinarian before adopting.
Affection
Rottweilers are family dogs and love to follow their favorites everywhere. If you have a Rottweiler, they are not going to leave your sight easily.
Intelligence
Rottweilers are really intelligent. They fall within the top 10 intelligent dogs!
Friendly Towards Kids
Rottweilers love kids, especially if they are raised with them. However, they are large and should be monitored around small kids.
Friendship With Other Pets
Rottweilers love to be with other pets, but they can get aggressive with other male Rottweilers.
Good For Starters?
Rottweilers love people and get dependent on them. They require proper training – not the best choice for novice owners.
Training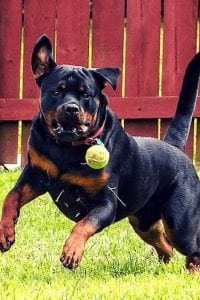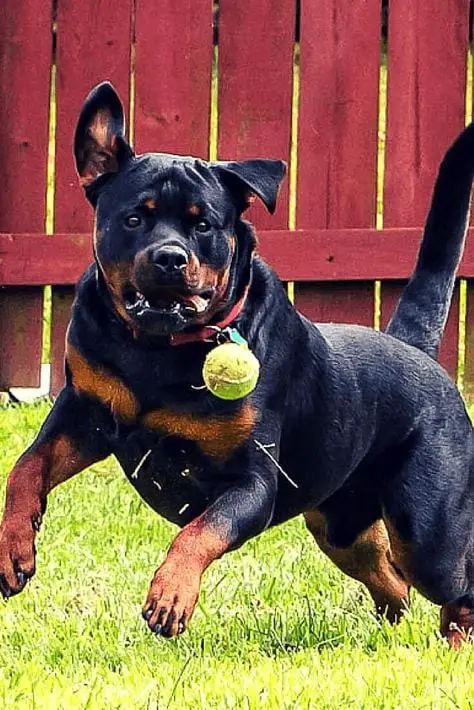 A young Rottweiler is much easier to train. They can also retain your training well.
Grooming
Rottweilers can be groomed easily due to their thin coat. Brushing and bathing are often enough for them.
Energy
Rottweilers have high energy and love to play and walk. If they are sitting around, they can get aggressive.
Guard Dog
Rottweilers are one of the best watchdogs and aim to protect their family.
Weather
Rottweilers can tolerate cold weather but since they have a smooth coat, it's better to keep them protected. The coat keeps Rottweilers cool in hot weather.
German Shepherd
Life Span
The German Shepherd can live a bit longer than Rottweilers – getting 9 to 13 years of life span.
Health
German Shepherds have a better immune system and are healthier than Rottweilers. But still, ask your vet to get them the best protection from the first.
Affection
German Shepherds are friendly too. They are known to wait at the door to welcome their owners.
Intelligence
German Shepherd is the 3rd most intelligent dog breed out there. No wonder, they get easy service in the police.
Friendly Towards Kids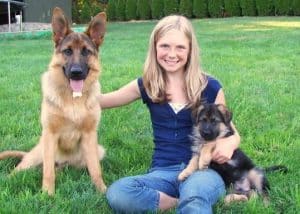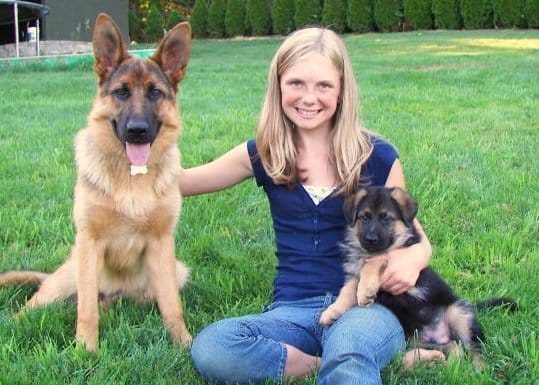 German Shepherds are pretty friendly with toddlers too and can even stop them from crawling towards staircases.
Friendship With Other Pets
German Shepherds like to be around other pets but become aggressive at times.
Read: The 10 most powerful dog breeds in the world
Good For Starters?
They are sociable and require high amounts of training. They are not very independent. So, not a good dog if you are a novice.
Training
German Shepherds, however, can learn a lot faster and can be trained well.
Grooming
The heavy fur makes them a bit harder to groom.
Energy
German Shepherds have high energy levels – play more, sit less.
Guard Dog
German Shepherds can protect you well and will indicate if any stranger comes too close to your home.
Weather
German Shepherds have a lot of fur and so, they can tolerate cold weather better. Despite having thick fur, they can also tolerate hot weather easily.
Well, seems like the German Shepherd has earned his 'fame' rightly!
Whatever be the case, in the end, both these cuties win in our eyes – don't they?