The short answer- yes. Rottweilers make for good family dogs. Although forever known as the guard dog, they are gentle giants when it comes to family. In fact, they are the tenth favorite breed of dog in the U.S.A., after the lovable Dachshund. Now, if your place is small, the Dachshund is perfect. If it is big, go for the Rottie.
READ: Watch This Video To Witness The Beauty Of A Rottweiler-Baby Interaction
Needs Of The Rottweiler Breed
These are big dogs, so obviously they crave for space. They might not be the athletes in the canine world, but they are certainly not a slouch either. They like running and jumping around half of the time and they need the place for that. Since they are highly intelligent, they also need to be socialized from a very early age, so that they don't develop behavioral problems later. They don't require much grooming, hence not much of a diva. Good family dogs, aren't they?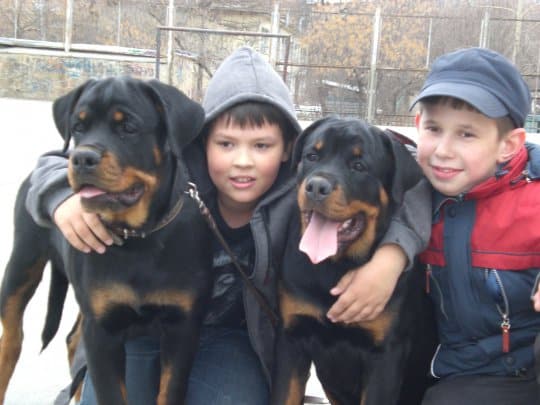 Behavior Of Rottweiler As Family Dogs
A Rottweiler's behavior is worth a biological study. They go through a lot of mood swings and can easily control all of them. They are fun-loving and kind around other pets or family but can easily switch to the super-protective mode when surrounded by threats. Their main priority is always their family and no one else. Also, they won't really communicate with other dogs, if their master doesn't command them.
Rottweiler Aggression
Rottweilers do get a bad reputation because of rumors and myths but they are great family dogs. They can get really friendly and clownish around people they love but can display a certain amount of distrust amongst people they don't know. It also depends on the mother you get the puppy from. If the parents are friendly, it is assured that the puppy too would be a friendly one. It also relies on how one tries to raise a Rottweiler from scratch. With proper socialization, they can be the friendliest of dogs.
#DogsWithJobs
Rottweilers show amazing dexterity at professionalism and can be taught to do a lot of things. Usually employed to be guard dogs or therapy dogs, they can be trained to do a lot more, due to their desire to please. One can actually teach a Rottweiler how to get angry and violent but it is imperative that such behavior is corrected from the very beginning. To prevent your Rottweiler from getting violent or slouchy, you should take them to puppy obedience classes where they learn how to be fine and friendly towards other dogs and humans.
READ: Socializing 101: Putting Your Rottweiler Up As A Social Superstar
So, still debating about Rottweilers? Don't worry, they are simply amazing and make for good family dogs.