The trick in training your Rottweiler against bad biting is preventing it since the very beginning. We all love our pets and they too in return, love to play with us. They show such gestures by the acts of biting and nipping. However, such acts may become troublesome once they grow older to 75 to 130 pounds. Therefore, before they head to their adulthood, these puppies must be taught that biting as well as nipping are bad behavior.
Rottweilers are known to have high levels of energy from a very young age. Whenever they want to play, they will snuggle close to you and start biting you. Sometimes, they do it when they get bored and wish to go outdoors. It can also be an act of dominant behavior or aggression.
READ: Socializing 101: Putting Your Rottweiler Up As A Social Superstar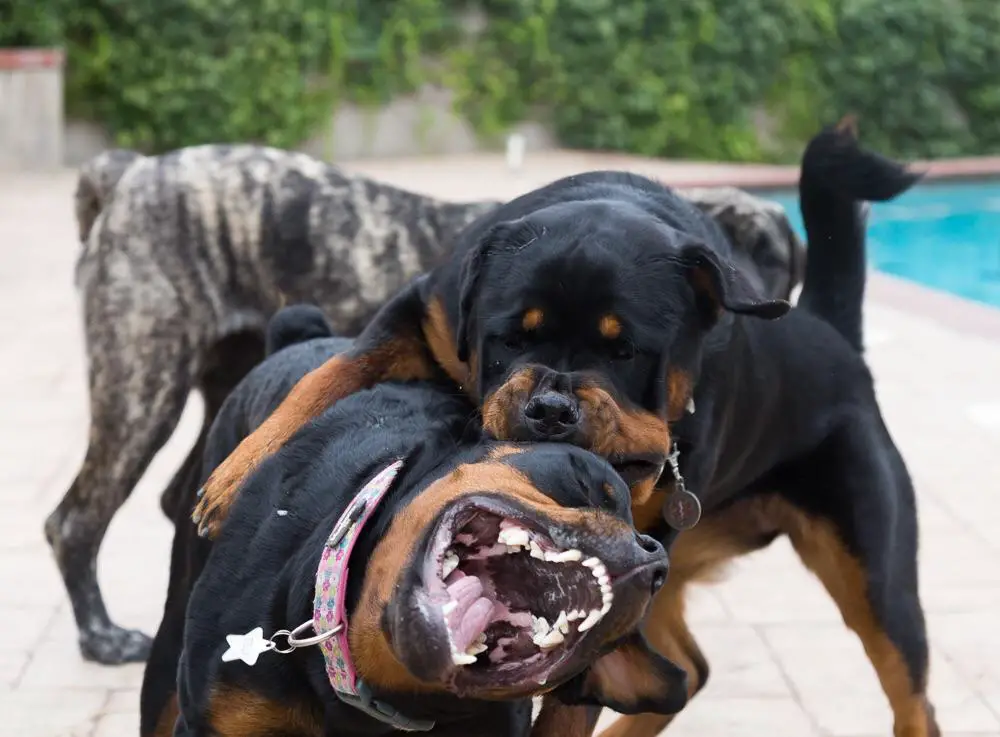 To keep your Rottweiler's biting in check here is what you can do:
1. Practice The Biting Game
Every Rottweiler bites when they play. While two puppies are playing, if one gets too rough with the biting, the other backs out from the game. After a while, they resume playing and quit only when one of them yelps at the other's rough biting. They are thus conditioned in a manner where they understand when they are hurting the other and continue only when they get gentler. The same process has to be imitated by you.
When you play with your Rottweiler puppy, let them gently gnaw on your hand. If the Rottweiler biting gets rough, imitate the yelp of a puppy. Do not pull your hand away because it makes them anxious and can provoke them to bite you harder. If the biting continues to be aggressive, end the game. Come back and start over after 15-20 minutes. Still, if the biting continues to be aggressive, end the game and try some other day. And if they get gentler with you, don't forget to reward them with treats. This would encourage them to be nice.
2. Take Them Out
Make it a point to take your puppy out for walks. Home-bound Rotties make aggressive dogs in their adulthood. In case you have a tight schedule, try to keep various toys for them so that they can play on their own.
READ: Rottweiler Toys: Getting The Perfect Toy For The Fun-Loving Giant
3. Keep Chewables At Home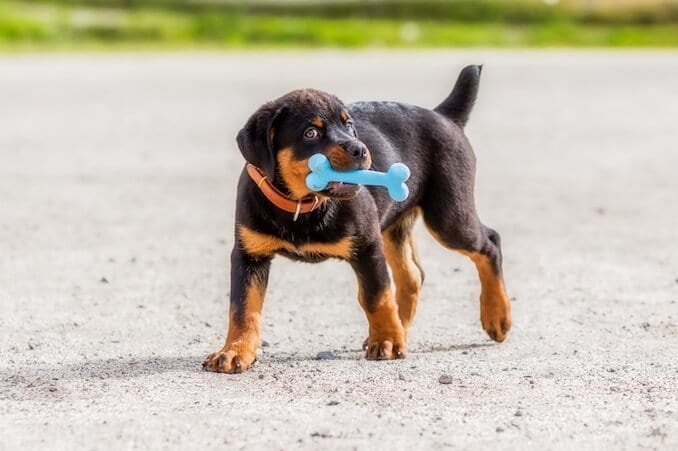 Keep some chew toys or dog accessories that are available for the dogs to chew or gnaw on. When they get too aggressive while playing, put a soft-toy in their mouth. This will give them the message that they can roughly bite only these toys, and that with you, they are supposed to be gentle.
These are some basic ways to control unnecessary Rottweiler biting. In case you miss this basic training in the young stage, you might be making way for an aggressive Rottweiler. Make sure to train them to be an amicably gentle dog.