Rottweilers are fun-loving and playful dogs but finding the right toy is difficult for these gentle giants. Rottweiler toys are different because they have one of the most powerful jaws in the canine world. As the Rottweiler is an outdoor breed, they require regular and vigorous exercise. Their toys are also designed to help the dog socialize and integrate with the family. Here are some durable Rottie toys which will keep your dog happy.
Toys For Puppies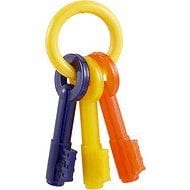 Teething Keys
Another toy that is gentle on the puppy's teeth, gums and jaws, and keeps it clean. Great to spend a few happy hours, they can also be stuffed with dog treats to make the experience interesting.
Rottweiler Tire Toys For Chewing
Tire toys are best for puppies. It helps them learn to chew efficiently. The hardness level is different for the puppy's soft gums and jaws. They are also bouncy and are ideal toys for a game of fetch.
READ: How To Train A Rottweiler Puppy: 4 Things To Remember
Puppy Toys That Squeak
Toys that squeak provide hours of entertainment for the jovial puppies. A squeaky toy is an ideal and engaging companion in the early life of your Rottweiler.
Rottweiler Toys For The Big Bad Boys 
Power Chewer
The power chewer is one toy that can withstand vigorous chewing and is perhaps the strongest dog toy. They can also be stuffed with dog treats like peanut butter. It tests the intelligence of the dog as they devise ways to get the treat. Your dog will go crazy over it.

Tug Of War Toys
Dogs love to indulge in a game of tug of war. It is an excellent way to keep your dog preoccupied and also affords some excellent bonding time with the family members. The rope toy is durable while also being long enough (three feet) to keep your finger at a safe distance.
Flex Disc
The best game for any dog is a vigorous round of fetch. It keeps your dog active and a Frisbee made from durable materials is ideal for a hyperactive dog like the Rottweiler.

Dog Launcher
Your Rottweiler has to burn ample energy to stay fit. A dog launcher is a superb way to hurl a ball up to 3 times the distance which will match your Rottweiler's workout rate. Tennis balls are ideal for a game of fetch.
Composite Puzzle- A Toy For The Rottweiler's Brain
Rottweilers love toys that challenge their intellect. This toy induces them to discover the hidden treats within. Hidden behind the blocks and the rotating center of the toy are places to keep treats.
READ: Train Your Rottweiler To Talk And Be Quiet At Your Command
Keeping It Safe
Finally, remember that Rottweiler toys that can be chewed through, ripped apart, choke your dog, and can cause perforation in the stomach. Their toys have to be extremely durable and should not be composed of harmful materials or chemicals. Replace a toy as soon as it starts to wear down. Finally remember that toys are a part of their training process and the right mix of Rottweiler toys to chew, fetch, play tug-of-war and puzzles contribute to the all-round development of your Rottweiler.