The Rottweiler Lab Mix is commonly known as the Labrottie, and they are quite indisputably one of the most beautiful breeds of dogs. Usually, the resulting breed takes certain aspects from one parent and other aspects from the other. In the case of the Rottweiler Lab Mix, it can either take the personality and characteristics of a Labrador while maintaining the color and shape of a Rottweiler or go the other way round. In certain cases, it can be quite random as to how the genes are dispersed.
Let's talk about the very basics of a Rottweiler Lab Mix, including their size, temperament, growth, and others.
Size of a Rottweiler Lab Mix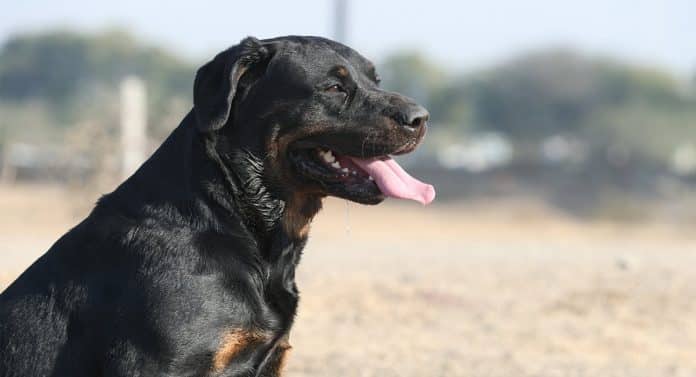 It is a dice roll when it comes to judging the size of your Rottweiler lab mix. For, they can either shuffle between the largest Rottweiler and the smallest Labrador. Usually, it can be determined that larger parents would give birth to larger pups. In certain cases, smaller parents can give birth to larger pups, which might leave you with a Labrottie too big for comfort. Unfortunately, it is quite problematic to ascertain their size before they grow up.
Read: What Are Albino Rottweilers And Should They Be Adopted?
Grooming a Rottweiler Lab Mix
It is quite fortunate that a Rottweiler lab mix has parents that do not shed a lot. Both Rottweiler and Labradors have quite a short coat, so you might simply need to brush them once a week. Although you need to keep in mind that some Labradors have a much higher shedding ratio than Rottweilers, this means that certain seasons would need you to brush quite regularly. It is up to chance whether your pup is born with a double coat or a single coat. Rest assured, the major differences would only be in temperament.
Temperament and Personality of a Labrottie
Rottweiler lab mixes come from two breeds that have been bred for completely different purposes. Labradors have always been brought up to be comfortable around humans, while Rottweilers are said to be increasingly distrustful around anyone strange. The personality of the Labrottie is essential because, let's face it, Rottweilers are aggressive, and there have been instances where a Rottweiler was involved in an attack on a human. There is no reason why anyone should ever take that risk- both the human and the dog. To rectify this problem, one could simply meet the Rottweiler parent of the Labrottie and see how it behaves around humans and family. And the other obvious way is good training.
Training a Rottweiler Lab Mix
Both Rottweilers and Labradors are highly energetic breeds of dogs that need a lot of exercises to control their adrenaline and excitement. Start early, and show them the ropes as they grow up. If you take time with their training, they might grow up insubordinate and uncaring as to their owner. And this could be detrimental to the situation in your home. So, start early, and show them who is boss. Love them to the depths of your heart, but also show them who dictates things.
Read: Rottweiler Mastiff Mix: A Formidable But Lovable Mix Who Will Be Both Playful And Protective
Remember, such large breeds are prone to many hip and bone diseases. So, maintain a diet along with regular exercise and training. This will ensure that they don't let go and get overweight. Protein is important, but don't indulge them with treats too much. It could backfire.
Buying a Rottweiler Lab mix is delightful if you are sure of the size you want and have an idea as to how to care for them.