Albino rottweilers – are they for real? Well, you might think it to be true. After all, albinism is not just restricted to human beings. There are Rottweilers who suffer from albinism and these are called albino Rottweilers or white Rottweilers. Since albinism is a rare condition in animals, a white Rottweiler is a rare occurrence too. Now, you might think that a white Rottweiler is cool, don't you?
Not quite – albinism can seriously harm the Rottweiler. However, in most of the cases where you find a white Rottweiler, it is not because of albinism. It might be because the said Rottweiler is a mix from another breed or the Rottweiler was overbred, inbred or had a mix of both. An example of a white Rottweiler would be a Rottweiler who was bred with a white German shepherd. While both the dogs will have different genes, such breeding will result in the dominant gene – that white color, to pop up. The new puppy will carry all the special characteristics of a Rottweiler, like the muscles and the oomph – but they will have that unusual white coat on them.
Read: Variations From The Accepted Standards Of Rottweiler Colors: Are They Accepted As Purebred?
On the other hand, an albino Rottweiler can be produced if close relatives are taken like, a father and daughter, and bred together. This is inbreeding and this might cause a break of the recessive gene. The result would be that since one gene does not work, the other breaks.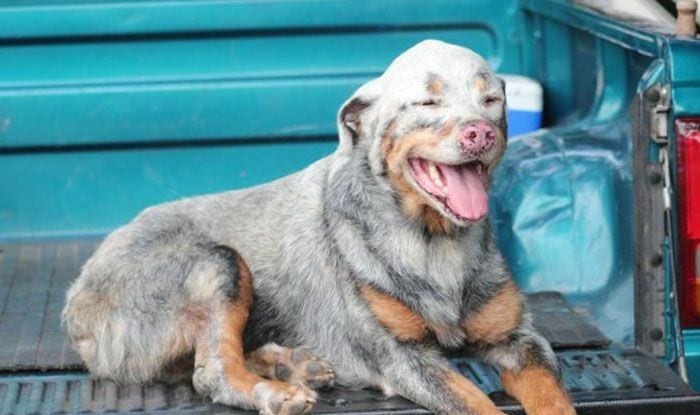 Albino Rottweilers have very poor health. Their immune system is quite weak and because of that, they can suffer a number of illnesses. These illnesses can be slight or it can be a major one. Even a slight cut can cause them to fall ill because their immune system is very weak. Due to inbreeding, albino Rottweilers are also prone to different other conditions like improper jaw formation resulting in overbite or underbite and also hip dysplasia. They might even develop behavioral issues.
The albino gene is just a recessive gene. Each gene that a Rottweiler has carries a duty. They produce melanin. If a gene produces melanin, then it means that the gene is performing properly. It is this melanin that gives the dog the darker shades of color like black and brown. The albino gene is not a functioning gene that gives one albinism – rather it is a gene that does not do any work. As a result, there is no melanin production.
Melanin is a natural pigment and most organisms have it. Melanin pigment is derived from amino acid L-tyrosine. It makes the Rottie mouth turn pink.
Read: Color changes in dogs
Albino Rottweilers stand out because of their unique color but that does not mean that they are healthy. Albinism is a disorder and as a disorder, it comes with a lot of problems. There can be vision problems that alter the eye and retina development. The nerve signals sent to the eye and the brain can get disturbed. Blindness, watering eyes, and photophobia can be common symptoms. The white skin can look quite patchy too.
Plus, the Rottie can have a lot of breathing problems and will be more prone to infections. Inbreeding of any species is not encouraged. If you take in a naturally occurring albino Rottweiler, make sure you care for them properly.