Your Rottweiler needs the best collar that you can provide. They are big dogs and excitable to boot. Hence, you would definitely need a collar that you can safely secure around their neck and expect it not to stress their collar area. Also, it would prevent your Rottweiler from getting into perilous situations. But you don't have to take the usual Rottweiler collar that you find in markets- we would be providing you with the opportunity to choose from several.
The main 5 types of Rottweiler collars you can choose from are:
Leather Collar As A Rottweiler Collar from Thepetnow

Leather collars are simply the best collars you could go for. But you need to realize that since it is quite strong and elegant, it might cost a few more bucks than expected. But you should go for something that has quality. Remember, if the material is flimsy, the protection provided too would be weak. Also, Nylon might be cheap but it could affect your Rottweiler's skin. So, leather it is.
READ: Here's How You Can Become An Expert At Controlling the Reins Of Your Rottweiler
Soft Touch Leather Collar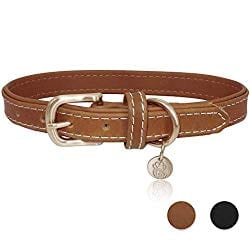 Soft touch collars are amazing Rottweiler collars that are made of pure grain leather. They are comfortable to touch and won't hurt your rottweiler's neck.
Bestia Maximus Leather Collar
This collar would remind someone of the Roman times, when rottweilers had thick necks and needed thicker collars. This Rottweiler collar is made of high-quality leather and can give your Rottweiler a fierce visage.
Large Breed Collar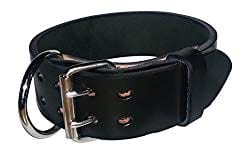 This collar is made with the biggest of dogs in mind. This has an ornate clasp which really looks good on big dogs. It also has the best rating on Amazon.
Braided Leather Collar
This is not just a common leather collar. This is a Rottweiler collar that comes in attractive braids!
Nylon Collar As A Rottweiler Collar
A nylon collar is perfect if you are looking for something cheap and durable. Since it is a piece of woven mesh, it also dries up pretty quickly if your Rottweiler gets into water. Also, this nylon collar can be found in many shapes and sizes, thereby making it quite easily available in the market.
But it doesn't come without its disadvantages. A nylon collar might perish faster than you think. Also, you have to make sure the collar you are taking is not flimsy. And finally, a nylon collar could get tough for your Rottweiler's skin. Allergies and rashes are common when a Rottweiler gets a nylon collar.
Picks By Big Dog Den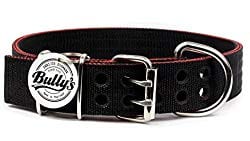 It comes at 2 inches wide and is extremely durable. It also comes in sizes up to XXXL and can be in loads of different colors.
They have a well-rounded clasp and offer marvelous protection. This is lightweight and easy to maintain.
READ: Start Training Your Rottie With The Sound Of A Clicker
Spiked Collars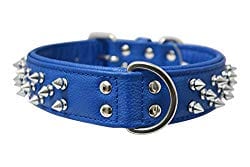 Spiked collars have always been the fashion statement when it comes to Rottweilers. With their portrayal in movies, a spiked collar is always the 'cool' norm. But remember, a Rottweiler is more than just a tough, rough breed of dog. They are also goofy animals.
The spikes can be attached to a leather collar, which you need to make sure doesn't turn into a choking hazard.
Chain collars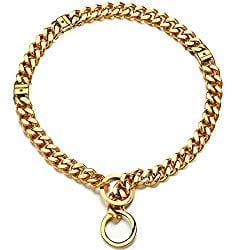 A chain collar can be problematic for a Rottweiler even though they look quite nice. A chain collar could get really uncomfortable for your Rottweiler. They look cool though.
If you want a collar for your Rottweiler, make sure you spend enough to get the best Rottweiler collar for your favorite furry friend!