As soon as you get your Rottweiler puppy, be sure to be by their side throughout their development. This will help you understand them better and you would be able to train them better. Their growth from a puppy to a Rottweiler is something you should be there for.
Neo-Natal Stage
Rottweilers usually require some external help in trying to survive. They need their mothers, whom they would be able to hold on to, suckle from, and get body heat from. They don't do anything apart from suckling and sleeping, so as an owner you need to check that your Rottweiler's growth is properly handled through the processes. If there is no mother, you need to make sure that they have an external source of heat.
Transitional Growth
This is the stage where things actually start growing in your Rottweiler. First, they open their eyes and start seeing. Soon, their ear passage will open up. At 20 days, you would start seeing some cute milk teeth, which poses a problem for the mother who can't feed her puppies anymore. The teeth bite into her, causing her pain. They also start with their tail wagging, jumping around, and random spurts of barking.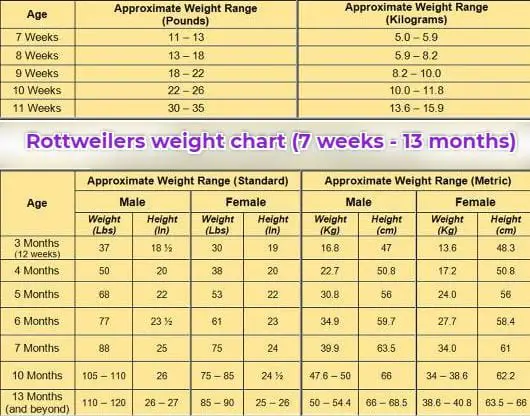 Awareness Stage
This is the point when you need to take your Rottweiler puppies and show them around. Since their senses are still developing, you would need to teach them the ropes. Move them around linoleum, concrete, cement, and carpet. They would be trundling around the house, so they need to know.
READ: Five Things You Need To Purchase When Bringing Home A New Puppy
Their knowledge of the environment is extremely important for them for the future.
Socialization
This is the period when you need your pup to be with their mother. In this growth period of your Rottweiler, it is very important that you don't separate them from their mother. They would learn their lessons from the mother, so taking them away might get dysfunctional for their growth.
It is all due to the fact that there are abusive characteristics present in adult dogs that usually stem from childhood. So, if you don't take them away from their littermates, they won't develop properly.
The mother also teaches them how to bite softly, for their games can get pretty rough.
Human Socialization
You need to engage your puppy in some socialization with people. For, they would soon be around humans, and it is best they know what they are going to deal with. Here is how you can do that-
Walks
Take your dog out on walks. Engage other people with him, so that your Rottweiler can familiarize himself around other humans.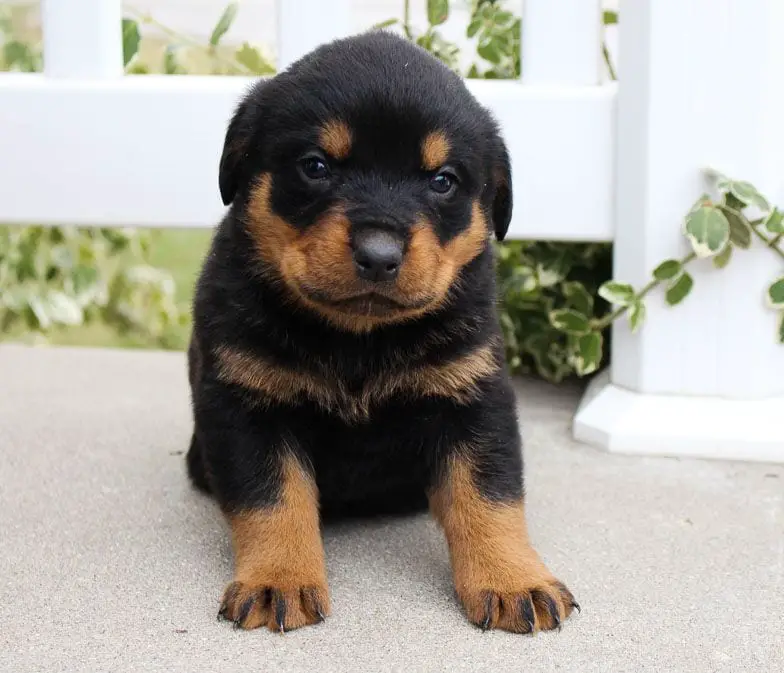 Socialize
The growth of your Rottweiler depends on how you time your puppy's socialization around humans. The time that would be perfect is around 3 to 12 weeks.
Puppy Classes
Rottweilers would love puppy classes, so it would be beneficial for you to put them with other puppies. It would be perfect for your Rottweiler to meet other dogs.
Flight
This can be a very tricky period for your puppy. They would keep getting excited and try going after different attractions. So, make sure that you have an assertive voice and a good leash. You would need these.
READ: 8 Tips For Capturing Photogenic Pictures Of Your Rottweiler
Maturity
We all know that Rottweilers are extremely loyal, intelligent, and wise dogs. So, it would be wise if you started training your dog rigorously. It would turn your dog into a family member.
You need to be an active part of your Rottweiler's growth, because the one person they would trust the most, is you.