Although we have established that Rottweilers are gentle, kind dogs, there is no guaranteeing when they can switch that off. It is time that we spoke of the elephant in the room for that is going to make owning and caring for a Rottweiler all the more informative.
Yes, Rottweilers are big dogs who can be prone to aggression if they feel they are threatened. This threat can be of many forms. A Rottweiler can be threatened by abuse, neglect, even by members of the same sex. Even jealousy can be a motive for a Rottweiler to be violent towards both man, and beast. Rottweiler fights can be useful in certain ways, but in many situations, it can be dangerous and potentially fatal.
READ: What Does The Changes In The Temperament Of A Rottweiler Mean?
Physical Abuse Leading To A Rottweiler Fight
A Rottweiler mostly turns violent if they suffer from physical abuse. If the owner is a serious piece of work and beats the Rottweiler, they will obviously retaliate. But one needs to realize that there is always a precedent for this. A Rottweiler will never attack their master unless the master has done something to deserve it. Rottweiler aggression, in this case, is mostly self-defense.
Neglect That Can Cause Fights
Neglect can turn a human into a wild beast, hence imagine a dog with quite a reputation for being volatile. If your Rottweiler is neglected by you in every sense of the term- be it lack of attention, training or food, the Rottweiler has no reason to respect and love you as their master. They will consider you as a threat and respond how they deem fit. They will obviously try to assert themselves, which might not be a good thing for the master-dog dynamic.
Jealousy Leading To A Rottweiler Fight
Probably the only form of emotion where the Rottweiler has no precedent to attack. If the Rottweiler feels that the member of the opposite sex is trying to assert their supremacy, this Rottweiler will object to it. Usually, it is a pretty bad idea to keep dogs of the same gender together especially if the breeds are assertive ones. They don't like to back down and in the heat of the moment might end up hurting each other badly. In some cases, in true cinematic fashion, the Rottweilers might fight with each other to seek the attention of another dog usually of the opposite sex. This assertion of power and raw sexuality, while quite interesting for their object of desire, might be very fatal to the dogs fighting.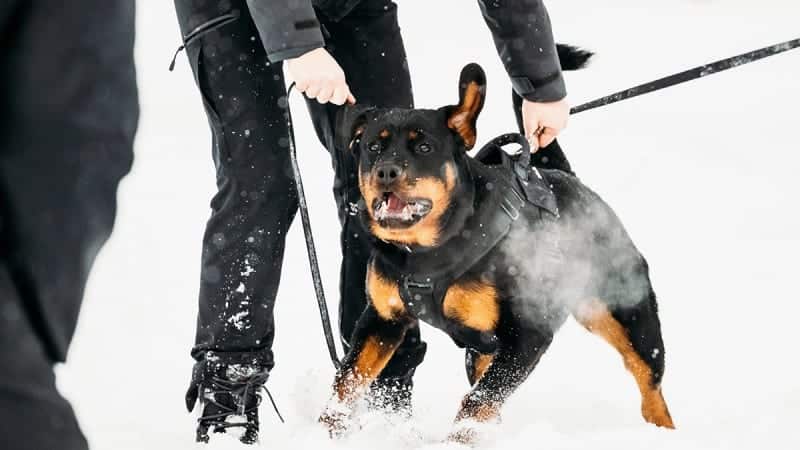 READ: Do You Deal With An Aggressive Rottweiler When They're Taken Outdoors?
As an owner, you might actually get hurt trying to stop them. A vet will come and provide medicines that will soothe the physical scars, don't worry about that. But you as their master need to understand where this jealousy and passion comes from and try to eliminate that. Usually, you would have to separate the two warring dogs for their benefit.
Rottweiler aggression is what allows them to be a part of several professions like guard dogs and police dogs. But them fighting against masters and other dogs can be quite a nuisance for both parties involved.