Grooming Rottweilers isn't usually difficult as they are short hair dogs, unlike poodles. All they regularly need is judicious use of the brush to clean their coat as they shed a lot. Devoting a few minutes every other day works just fine. But it is their eyes, ears, and teeth that need regular care. This is also a part of grooming your Rottie.
As with humans, it is always dangerous to insert a sharp or even a hard object inside a Rottweiler's ear. Just lift its ear flap to make sure it is clean on the inside. If you notice a dark or waxy secretion or red and inflamed membranes, you can be sure that something is not right. A visit to the vet will set things right.
READ: How to Take Care of an Adult Rottweiler
Your Rottweiler can be affected by allergies especially near the ears. They can turn red and sore and itchy. If your Rottie is scratching their ear or shaking their head in excess, you can be sure that it has dog allergies.
Gently wash-out the inner part of the ear of your Rottie using a moistened cotton pad. Use warm water and do not go deeper than what is visible. You could also try a natural ear cleaning solution for yeast and fungal infection but consult the vet first. Be very careful when grooming your Rottie.
The eyes of your Rottie usually do not need much cleaning as their eyes do not droop and are close-fitting. Just using a similar cotton pad and warm water works fine.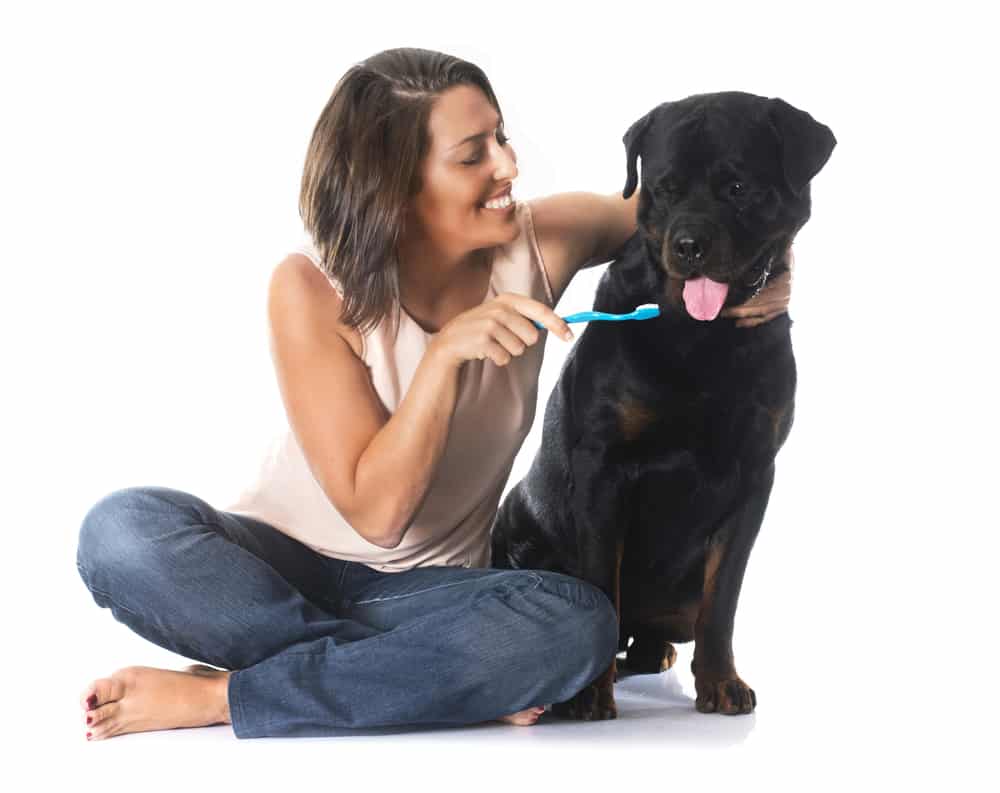 Most owners did not think that a dog's teeth need to be brushed until recently. Chewing a bone or chews or feeding them dry food were considered sufficient for the dog's dental hygiene. But it is different now. The American Veterinary Dental Society has found that by the time they are 3, 80% of all dogs suffer from periodontal disease. This can cause further complications and cause heart, kidney, and lung diseases.
Be sure to include tooth-brushing in your Rottie's grooming routine. But desist from toothpaste meant for humans. Instead, use one made especially for dogs after consulting a vet.
READ: 16 Clues For Anyone Who Wants to Understand Rottweilers Better
Your Rottie is a part of your family so be sure to take as much care as you would for your family. Regularly grooming your Rottie goes a long way in preventing many diseases.