Are you aspiring to learn how to take care of an adult Rottweiler? Typically, Rottweilers are a recognizable and dominant dog variety and are characterized by massive muscles and tan and black markings on their bodies. Additionally, they are distinctive compared to other breeds due to their high protective instincts. Therefore, learning on how to take care of an adult Rottweiler is essential, and here are excellent tactics to help you maintain a healthy dog.
Feeding Adult Rottweiler
Naturally, a Rottweiler can weigh up to 135 pounds; therefore, the dog will need a high-quality diet and which should contain crude protein, crude oil, and high fiber content. However, you should ensure that your dog does not become overweight, through proper exercising and which is also essential as it facilitates muscle development.
Most importantly, adult Rottweilers are very susceptible to gastric dilatation disorder, which is the accumulation of gases in the stomach. Therefore, you should feed your dog with either two or three smaller bowls of non-fatty meals daily, and do not mix dry foods with water. Additionally, allow the Rottweiler access to a clean and fresh water source, but in small amounts to prevent gastric stomach disorder. Also, it is essential to ask your veterinary for feeding recommendations to ensure that your dog grows healthier and stronger.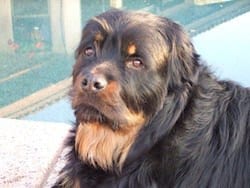 Training Adult Rottweiler
Firstly, before training your dog, you need to understand the dominance of your Rottweiler, and then teach him with a careful and kind understanding. Naturally, there are numerous ways you can instill good behavior in your dog without being rough or aggressive.
Secondly, you should enhance the socializing skills of your dog as they are essential in ensuring that the Rottweiler is comfortable around other dogs as well as around people.
Typically, you can improve the social aspect of your dog by taking him for a walk in public places or by going with him to your friend's house. Therefore, by keeping your dog's social experience excellent and positive, he will learn to become more confident and active.
Additionally, you should teach your Rottweiler simple commands to assure complete training by using positive reinforcement tactics. Some of the standard terms you can train your dog includes, come, sit, stay, paw, down and no. However, if he does not respond to your directives, you should not yell at him or use physical discipline such as hitting, as these will confuse and frighten the dog.
Exercise Adult Rottweiler
Rottweilers are usually athletic, large, and active; hence, adequate exercising is vital to keep them in shape and to maintain their muscular physique. Additionally, working out your dog will prevent him from becoming overweight, a condition which can lead to heart, thyroid, join, and breathing problems.
Usually, an adult Rottweiler requires a 50 to 60 minutes' walk every day, and other excellent dog exercise ideas, including short runs, fetching, obstacles, frozen bottles, and a tug of war.
Grooming Adult Rottweiler
You should maintain the nails of your Rottweiler by trimming them because long nails can cause injuries when the dog is running or digging, and also brush his hair to keep him clean and tidy.