Rottweilers are eye-catching dogs! Their black-and-tan coats and solid build may make them look intimidating, but if brought up the right way, Rotties can be loving, goofy pups that make fantastic family dogs.
If you're looking for a buddy for your child, you may be considering one of these big fellas. But are Rottweilers kid-friendly, really?
The short answer is – they can be! There are some factors that determine this, though, so let's dive in and examine them.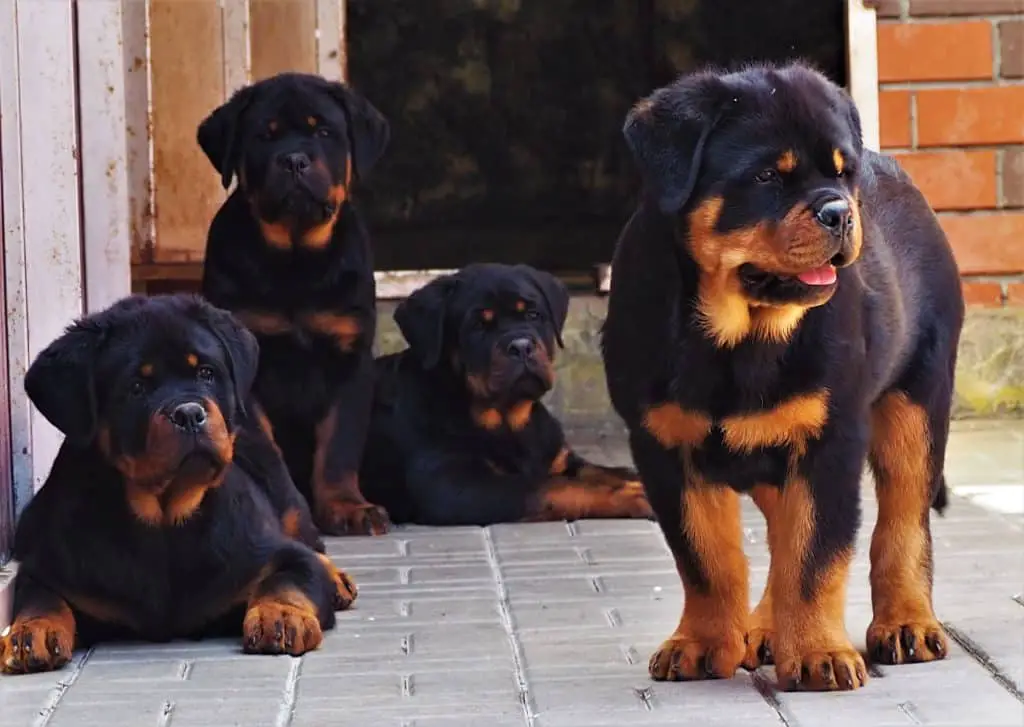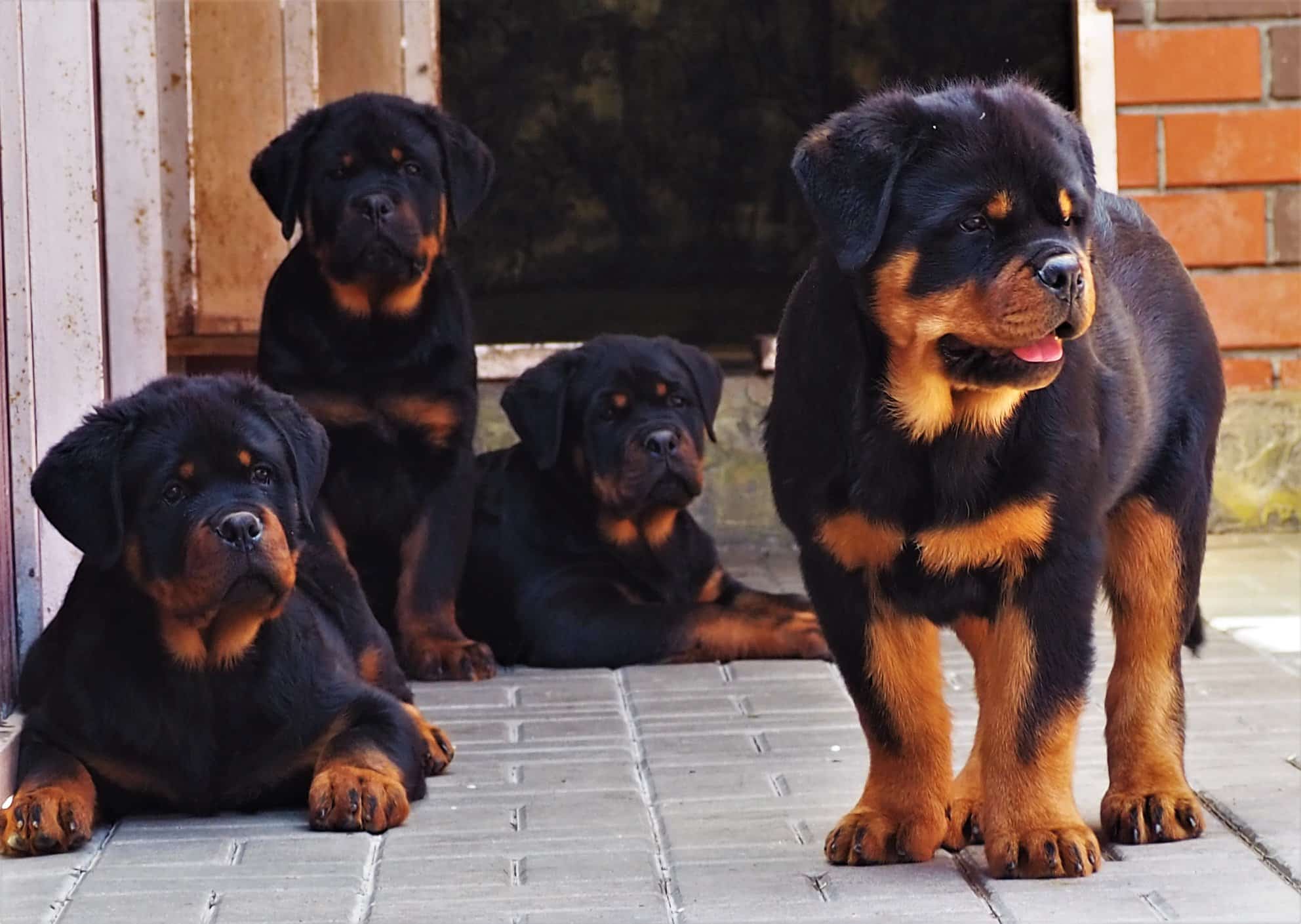 Puppy or Adult?
If you have kids and want a Rottweiler, getting a Rottie puppy is the best way to ensure you'll get a kid-friendly dog!
Puppies and children who grow up together form a bond unlike any other. Rottweilers are extremely loyal to those they love. If your kiddo and Rottie grow up together, the dog will most likely be fluffy and cuddly with them. You may need to supervise as the Rottie gets bigger and doesn't know their own strength, though!
If you have a Rottweiler already and a kid on the way, congrats! Introducing your new baby to your Rottie slowly should be quite all right.
If you're taking on a new adult Rottie, it could be hard to tell upfront how well socialized they are, or if they're likely to get aggressive in certain situations. Rescued Rottweilers may not be the best choice for families with children – there is a chance of something spooking them and the dog lashing out.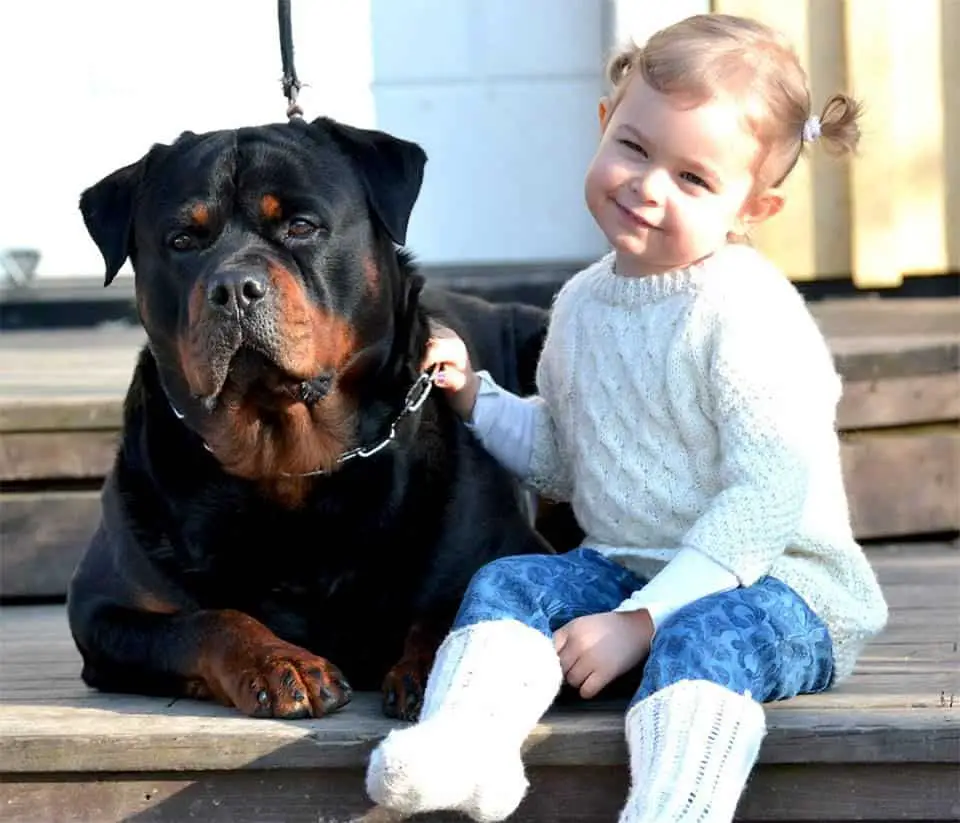 Train Them At Young Age
Training is the best way to ensure a kid-friendly Rottweiler! Use positive reinforcement to teach your Rottweiler how to interact with your children.
It's a good idea to do the same with your kids – teach them how to treat a dog from a young age, so there's nothing but love from both sides.
Raise A Happy Rottie
Rottweilers may look solid, but they're actually pretty energetic and need mental and physical stimulation. If they aren't getting what they need, their frustration could manifest itself in aggression, excessive chewing, digging, or boisterous behavior.
A frustrated dog is not kid-friendly! If you take great care of them, though, you can be sure they'll return the favor.
In order to have a happy (and therefore, kid-friendly) Rottie on your hands, make sure she has:
Enough space to roam around in.
Stimulating toys to keep them mentally and physically engaged.
A short walk or run every day.
A healthy diet, so she feels physically great.
Conclusion
If your Rottie is well-socialized, used to kids, and well taken care of, he'll be the most loving and loyal companion you (and your kids) could ever ask for!
If you've been trying to decide if a Rottweiler is the right dog for you and your family, I recommend getting a puppy you can train. With proper love, care, and family interaction, you'll be able to bring up a goofy, lovable fluff that poses no danger whatsoever to your kids.
Remember, love should be at the core of how you treat your dog. That's the best basis for a kid-friendly, loving Rottweiler!