Rottweilers are the victims of a few mistaken perceptions about their nature. They have unjustly acquired an intimidating reputation but the conception is wrong and those who own a Rottie will vouch for their immense virtues. Here are 6 wrong impressions about Rottweilers and the truth behind them.
1. Rottweilers Cannot Be Trained
Rottweilers have a 2,000-year-old lineage and started as working dogs. They are now used as service dogs. Their response to training is amazing as they are obedient and intelligent. Include obedience training along with housebreaking at an early age and they will respect rules and follows orders.
2. Temperamentally Unpredictable
Though true at times, this happens only when they have aggressive parents. As these dogs are highly loyal and trainable, the breeders should be careful in selecting the parents. Socialization is extremely important as they must learn early to live with humans and other animals.
READ: Rottweiler Saves A Woman From Tiger Attack
3. Rottweilers Are Aggressive
they are powerful and massive with medium-large bodies. They do not take well to improper handling. The qualities of a good Rottweiler breed get destroyed due to careless breeding. Hence some of them may display an aggressive streak and lead to the wrong impressions about Rottweilers.
However, it is unfair to brand the Rottweiler a violent breed. Instead, they are quite affectionate, energetic, and playful.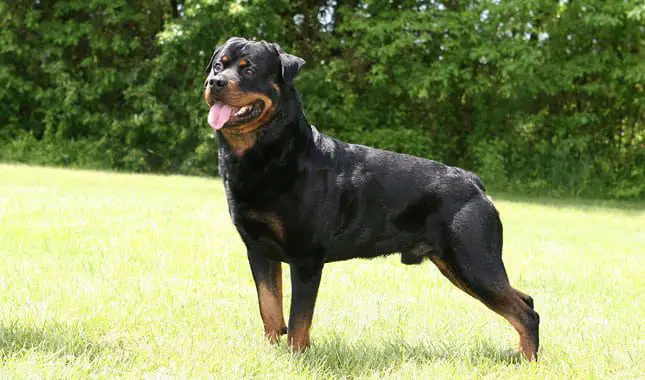 4. One Of The Wrong Impressions About Rottweilers Is That They Attack Children
Most attacks happen just because the kid was left alone. Kids don't know how to handle animals and leaving them unsupervised is imprudent. All dogs are dangerous when you do not know to handle them. Rottweilers are very playful and protective while also being formidable guard dogs.
5. Rottweilers May Attack Owners
According to the American Kennel Club, they are the ninth most popular and loved dogs in the US.  They are extremely loyal and protective. But they should never be physically punished when training. Fear induces aggression and positive reinforcement should be the way to train them.
READ: Rottweilers Make Great Therapy Dogs: The Strawmyers Prove It
6. Docking Of The Tail Is A Must
It was a common practice since the 19th century as the standard for the breed. But this practice is now considered unethical.
All breeds are different. And within a breed, each dog has its personality and temperament. Rottweilers are never aggressive without a good reason and it is mainly the ignorance about it that results in wrong impressions about Rottweilers. They are highly trainable and so are used as police dogs. Do let us know about your first-hand experience with this breed.