The Rottweiler is a very fine character dog. They are a bit slower than the shepherd dogs, but what they learn is forever. The three rottweiler therapy at the Strawmyer house, Angus, Bella, and Sprout, let any passerby know of their presence.
Agnus, at 6 – and a male, is training to be a sheepdog and is close to earning the title of a farm dog. 19 months old Sprout is the youngest and has recently got through his dog therapy examination. At nine, Bella is the only female in the house and also the alpha in the house. She was a qualified therapy dog but has retired in June as a result of cancer.
Jim and Jayme Strawmyer treat the dogs as their children. They married in 1989 and since then there has been a Rottweiler at their home. Jayme had only small dogs as she grew up. She wanted a larger breed after marriage. Jim's dad owned a Rottweiler so they decided to have one and they got the biggest one they could find.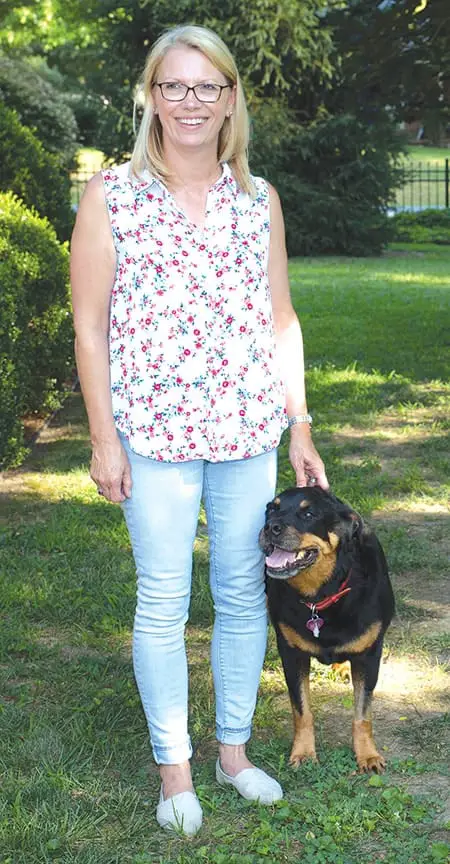 Bella, the Rottweiler, was their first trained therapy dog. Jim was looking for a merited AKC breeder and met Renice Zimerman. She had Rottweiler puppies. Bella was with Renice then. She joined them after 2 years.
Bella was already certified fit for the job of a therapy dog when she entered the Strawmyer household. Jayme and Renice soon became friends and Renice taught her about handling and training therapy dogs. After Bella, Sprout, another Rottweiler, is now being trained to be a therapy dog.
Bella, during her term as a therapy dog, had made numerous visits to the Medical College of Virginia Veterans Affairs, the Medical Center in Hampton, and Tragedy Assistance Programs for Survivors. Jayme and Zimerman were recently invited to the FBI headquarters at Chesapeake and provided several hours of therapy assistance for agents.
Even though Bella participated in all the groups concerned with senior or adult members, her specialty was providing therapy to children. For 3-4 years she has been a part of the Tragedy Assistance Program which offers hope, help, and healing to those grieving the death of a loved one serving in the US armed forces. She even went to DC on Memorial Day every year and met more than 500 children there. Bella lies down every time a child touches her.
During one Christmas parade, Bella was leading a cart and a little child came and petted Bella. The father could not believe it as dogs normally terrified her. The child's mother was thankful for letting the child pet Bella. Her first exposure to a dog began with the gentle Bella.
Therapy dogs do not have it easy. They soak up the trauma and stress of the people they interact with and need time to recover. When she came back from a prolonged event, such as TAPS, Bella needed some time to herself, a long nap, and lots of love.
Read: 8 Reasons Why Everyone Loves a Rottweiler
Rottweilers are a misunderstood breed. Jim and Jayme seek to clear the air on several misconceptions about them. They are energetic and need to be continually engaged to channel their energy. Jim and Jayme have been handling them for almost 30 years and they know that a Rottweiler can be as loving as teddy bears.
Bella is a recipient of the Anvil TRUE Award given by the American Rottweiler Club. Bella's puppies have become show dogs and two of them even had a show at Westminster. Bella had been providing love and solace for 7 years before her retirement. She had not been keeping well and cancer has been detected. Operations will not be of help to Bella. The Strawmyers have retired her. They wanted to relieve her of the stress of being a therapy dog.
The only creatures that are evolved enough to convey pure love are dogs and Bella is the perfect ambassador for her breed, the Rottweiler. They have unjustly acquired a negative reputation but they can be as lovable as any other breed. And we can also see that a Rottweiler can be a great therapy dog.