Your dog is a part of your family and you can expect them to behave like any other member. And that includes using the furniture in the house. Your Rottweiler is fond of your furniture because they know that you use it. So if they sleep on your bed or watch TV sitting on the couch, they are just being you; and you surely cannot be angry about it.
But then not everybody feels like you do. Rottweilers, like all dogs, shed. Your guests may not take too kindly to being transformed into a furry ape the moment they sink into your couch. Your favorite chair or couch may be comfortable but it just isn't okay for them to be using that. And the best way is to find a place for your Rottweiler which they can call their own.
READ: Rottweilers Are Both Smart And Goofy: Establish Yourself As The Leader If You Want To Keep Them That Way
The easiest way to do that is to have something cozy for them. Your Rottweiler is fond of your furniture because they are comfortable. So anything comfy will do. Like a blanket or a pillow that is only your Rottweiler's. But there is a catch. You have to keep a piece of comfort for your Rottweiler in every room which comes within their territory.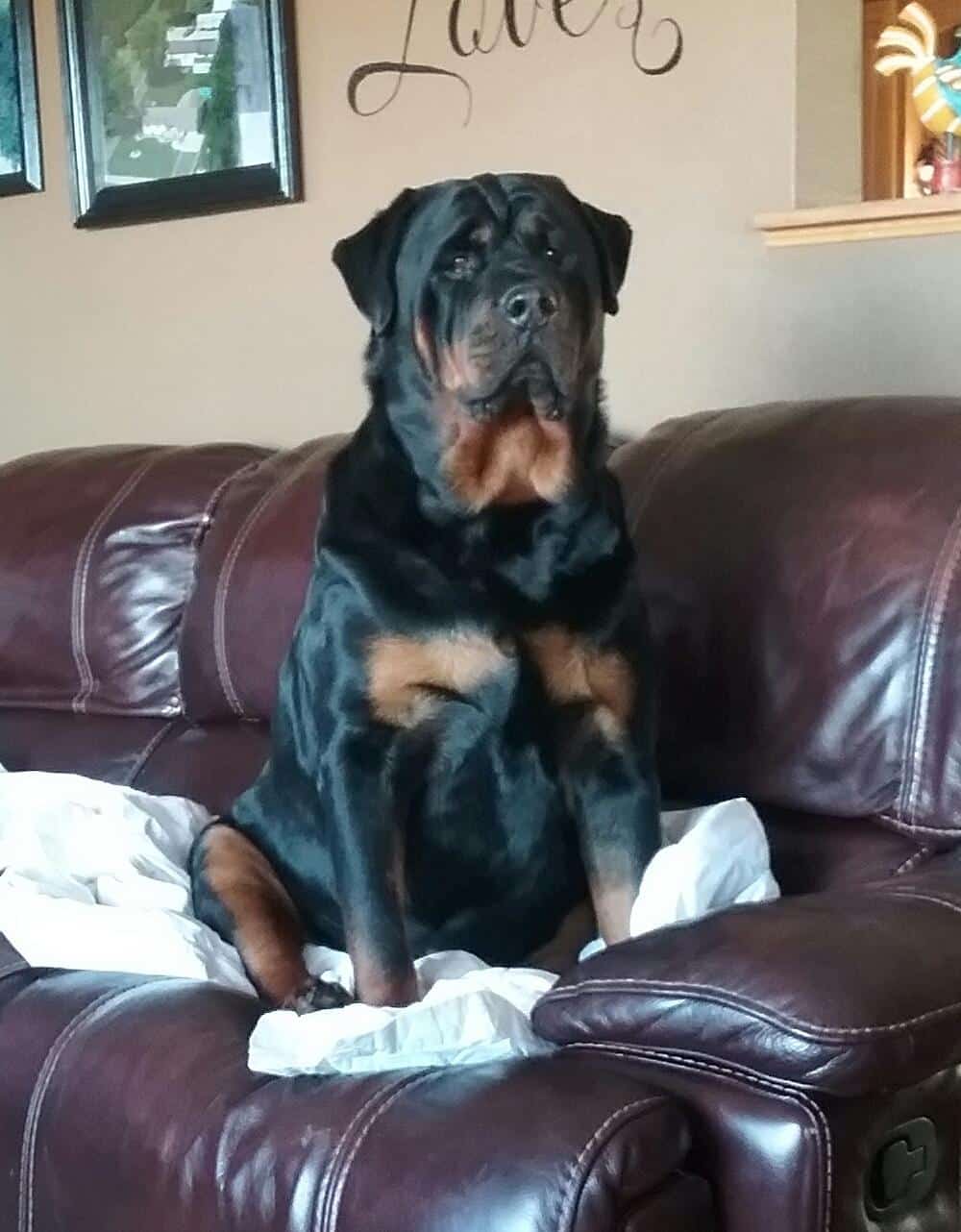 Your Rottweiler is fond of your furniture because they see the family lording over them. They cannot understand the reason they are forbidden to do the same though they are a part of the family. So unless you start discouraging them from the day they enter the house, it becomes a routine.
Persuading Your Rottweiler From Jumping On The Furniture
You might catch your Rottweiler on the furniture or bed at times, too comfy to even glance at you. Coaxing a giant with a mind of its own isn't easy. Your Rottweiler is fond of your furniture so persuading them off the furniture will require some deft handling, a few firm words, and an exclusive treat to round it off.
Be consistent and firm in your behavior whenever you catch your Rottweiler on the bed or couch. Your first objective is to give your Rottweiler a chance to get off of their own volition. They can normally sense if their owner is displeased about something and obey. If not, a sharp word and a firm nudge usually serve the purpose.
If words are ineffective for your Rottweiler who is fond of your furniture, gently hold them by the scruff and help them along. Do not be rough or shout at them. If they have a collar around their neck, you can hold that and guide them down.
READ: Reasons Why You Shouldn't Allow Your Dog to Sleep in Your or your kids Bed
Once you have succeeded in persuading them off your furniture, lead them straight to their comfort zone. Never shove or push them off the couch or bed. They are susceptible to shoulder and hip injuries, so be careful in handling your Rottweiler.
So even if your Rottweiler is fond of your furniture, learn to be firm and unswerving in your conduct and effusive in your praise. Choose an area exclusively for them, that is warm and cozy and close to you, so at least he won't feel left out of the family.