If ever you want to own a powerful guard dog that is also loyal, intelligent, and loving, you can rely on the Rottweiler. Behind the formidable appearance is a lovable and cuddly darling who is obedient and who loves to please you, the master and leader. But to develop that fantastic relationship you will need to establish yourself as the leader and be 100% ready for the responsibility.
Contrary to general perception, Rottweilers are easier to train than many other breeds for two main reasons: one, they are intelligent and quick learners. The other reason is that they love to please their leader.
READ: Tips On How To Successfully Train Your Dog
Establish Yourself As The Leader
Rottweilers are strong-minded, and coupled with their large size, they can be difficult to manage unless they are trained. You have to become its leader and demonstrate how it should please you or it will find a wrong way to do it. They love discipline and will willingly accept you as the leader if you train them to it.
The earlier you establish yourself as the leader, the easier it is to manage the lovable dog. It is the first and the most important lesson and this relationship has to continue all through the life of the Rottweiler.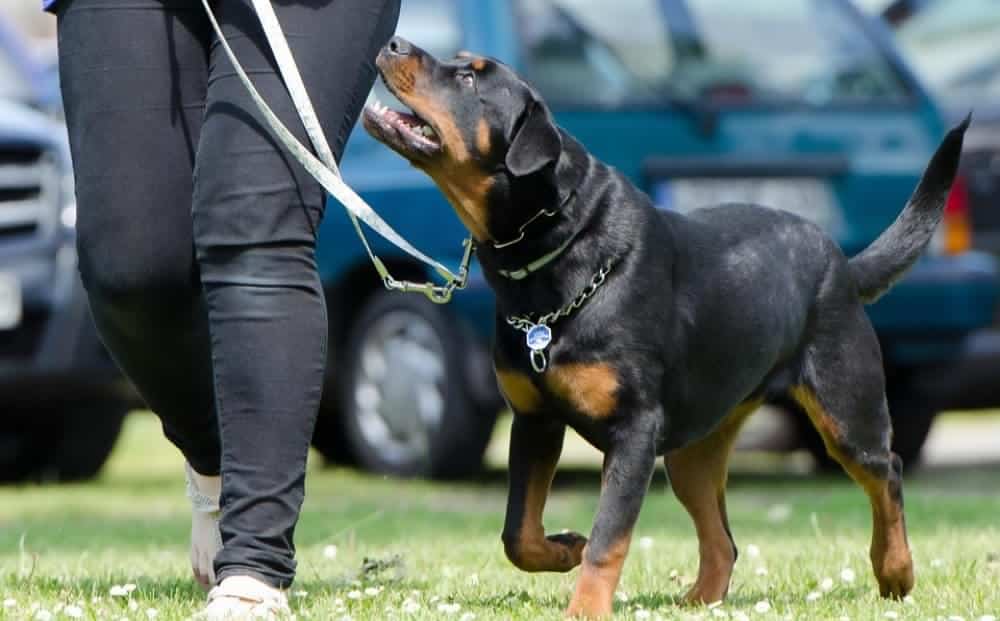 They have a strong character but in a positive way. They tend to test the confidence of the owner by trying to enforce their dominance. Be firm and unambiguous in showing the Rottweiler that you are its leader or it will test you. It is easier to establish yourself as the leader from the get-go than trying to reestablish it later on.
Doorways
One of the first steps is to always to lead the Rottweiler when passing through doorways. Each time you go out with your Rottweiler, be the first to exit the door. A gentle physical restraint works if it makes for the door first.
READ: Whoever Said Old Rottweilers Can't Learn New Tricks Hasn't Read These Great Tips
Low Voice
Talking in a firm and low voice is effective as they get a hang of your tone. Rottweilers take a little longer to mature fully, which is normal among large breeds. They will continue to challenge your role as the boss unless you regularly establish yourself as the leader.
Continue to train your Rottweiler regularly and you will find a dear friend and protector who know its place in the hierarchy.
Featured Image: The Ringer