Florida woman, 49, is arrested in 'one of the worst animal cruelty cases' after she 'let her rottweiler puppy to death in a crate inside her home'
Dogs are a part of our everyday lives and have become man's best friend for a long time.
Dogs bring a sense of responsibility over us and it's only fair that we take care of them as we ought to. However no matter how hard we preach the gospel of being kind to animals some of us will always treat them as trash and leave them for dead. " woman, 49, is arrested in 'one of the worst animal cruelty cases' after she 'let her rottweiler puppy to death in a crate inside her home"
Not long ago, a woman in Florida shocked the world as she was arraigned in court after
two cases of animal cruelty were reported. The 49 year old Terry Red stone left her Rottweiler puppy inside a crate in her Florida abode. Authorities were alerted of the escapade and they arrived shortly after only to find that there was dead Rottweiler puppy in crate. The estimated death of the puppy was said to be out of starvation for a couple of two weeks. As the animal control department was looking through the premise they found another victim, a whippet Rottweiler puppy, dead and rotting too.
A neighbor claimed to have felt a stench from the house and got curious and so
she alerted the authorities who arrived at the scene minutes later. On questioning, Terry Red stone admitted to not feeding the puppies. She felt no guilt for what she had done and proudly admitted to it. She also admits to having put her puppies in crates for most of the times. She said in her defense that the crates were used to contain the animals though this was fact to differ with as the house was littered with feces all over it. This is one of the cruelest cases of animal harassment reported.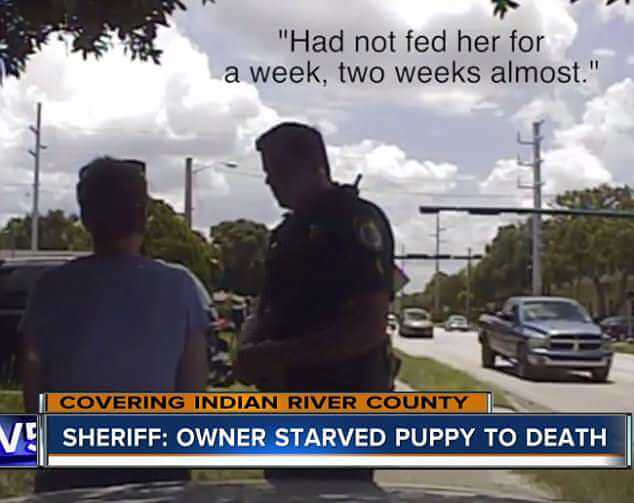 On inspection of the premises, not only was she unhygienic but also filthy. The house was filled with crawlies all over and feces left lying around. The estimate death of the Rottweiler puppy was three weeks before it was found by the authorities. This was not taken lightly as she was charged with guilty of cruelty to animals and was released on a bond of $5000. Though the public thought that this was not enough for her.
As local authorities gained access to her home they were actually forced to use protective gear to avoid getting all kinds of germ causing sicknesses. A report released by the sheriff said that he failed to understand how not only cold the animals survive in such an environment but also the woman. Authorities also said that the animal was in the final stages of decomposition and was it not for the neighbor this would have gone without any justice being done.
The story of this animal cruelty was one saddening one and was featured in the news and the public condemned the act to be a very inhuman act, one which shows no compassion for the animals and that she should be denied access to pets. A warning was also made to other who presumably had the same behavior and justice was promised to them.
WPTV Privacy Policy
Article Source : Dailymail