Got a Rottweiler puppy who is your dream buddy and you want to feed them the best you can? First of all, congratulations for choosing this amazing breed! Rottweilers are excellent watchdogs and guard dogs too. So if you're worried about how you're to feed this heavy breed, don't!  Here you'll find all about the most suitable foods for Rottweilers.
Nutritional Requirements Of Your Rottweiler
Every dog breed has certain nutritional requirements based on their average weight. Rottweilers weigh about 75-130 pounds (males are heavier). Their average height is 22- 27 inches. They have a robust build and thus come under medium to large dog category.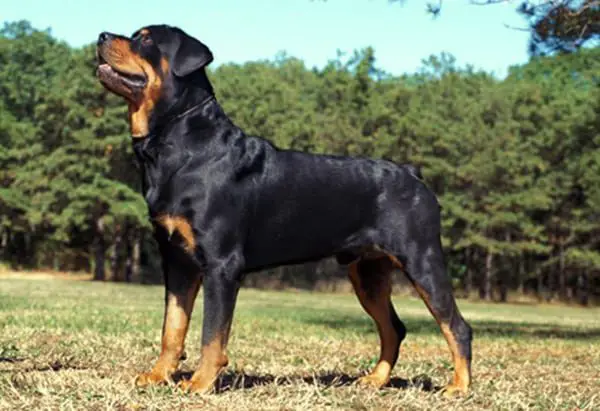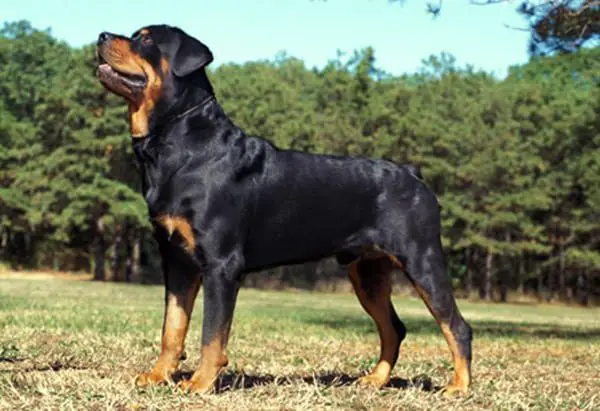 According to the National Research Council of the National Academies, 2100 calories of energy intake is essential for an active fully grown Rottweiler of 90 pounds. This calorie amount can be lowered for neutered or old dogs. However, if your dog is hyperactive, you need to increase the calories slightly. Similarly, a puppy needs more calories than adults. So calculate the amount of food for your Rottweiler based on his weight, metabolism, and the amount of physical exercise he gets.
The protein requirement for Rottweilers according to the Association of American Feed Control Officials (AAFCO) is 22% for puppies and 18% for adults. Puppies being in the growth stage need more protein than adults. All major dog food companies give at least this much protein in their products.
READ: Keep Track Of The Growth Of Your Rottweiler And See Them Become Healthy And Happy Doggos
Coming to fat, 8% for puppies while adults need 5% fat in their diet. Fat is an essential source of energy for every dog and it is what makes the food tasty. Good fats like Omega-3 and Omega-6 are what keep your pup's fur, skin, heart, and brain healthy!
Must-Have Ingredients In The Food Of Your Rottweilers
Look for the right balance of protein and fat in the food. Make sure that the quality of nutrients is good because quantity without quality doesn't work.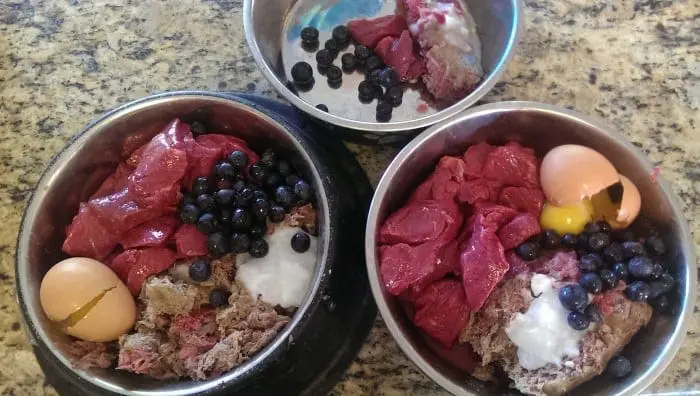 The protein should be derived from meat primarily and not from any grain (especially for puppies). Whole meats (chicken, fish, beef, and lamb) and meat meals are to be prioritized. But remember that whole meats have high water content thus they weigh more. However, don't go for meat "digests" and/or "by-products", since they are low-quality proteins.
Many vitamins are only absorbed by fats. So your dog must have good quality and the right amount of fat for getting all the vitamins. Chicken fat is a brilliant source. So are other fats like fish oil.
READ: What Are The Things To Keep In Mind Before You Bring A Rottweiler Puppy Home?
Gluten is one thing you must avoid. Antioxidants are beneficial for your Rottweiler and added taurine will work wonders too. Some grains like oats, barley, and corn can be fed to your dog since they provide fibers and some protein and vitamins too.
There you go, decoding the secret of the best foods for Rottweilers wasn't that difficult after all! Follow what you read above and ensure your pet's good health.