There is a certain amount of seriousness and intensity involved in picking a Rottweiler pup. You are choosing a brave-heart with a big heart and selecting the correct pup ensures that you get it right from the first. Remember you are not just owning a dog but adopting a child who walks on all fours. And owning a Rottweiler is a deep obligation. In return, you are assured of pure love and protection throughout their lifetime.
The Right Breeder
For starters, get a good breeder. The reputable ones will not keep several litters at a time and the quarters will be open and clean for all to see.
READ: The best places to Buy a Rottweiler for your life
Meet The Parents
The next step would be to meet the pup's parents. Insist on it even if the breeder tries to convince you otherwise. This will give you a general picture of how the pup will turn out. Personal attributes like size, genetic issues if any, and disposition will be easy to spot.
How They Intermingle
An important step before picking a Rottweiler pup is to note the synergy between the pup and the other pups. You should go for one who connects with and reaches out to the other pups.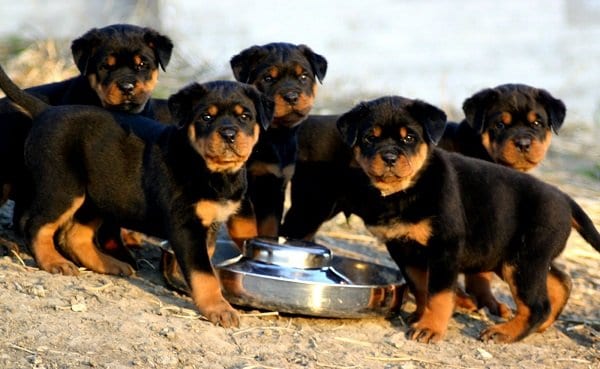 Spend some time alone with your pup. This will help you ascertain their behavior if they are lonely. Some pups may be very aggressive when left alone.
The Right Traits
Now turn to what you want from a Rottweiler pup. Go for a doggo that is a happy mixture of the leading traits of a Rottweiler. They should be loving, friendly, playful, and curious. Do not go for a pup who is too assertive or even too submissive. These are personal traits that even the right training cannot set right.
READ: 5 Points That All Rottweiler Parents Will Agree With About Their Furbabies
Your Rottweiler should be everything that is expected from such a formidable but lovable dog. Go for a pup that is a true-blue(black!) Rottweiler. The coat should be a shining black with the familiar mahogany and rust markings, the ears triangular, and the eyes shaped like almonds. The ears normally fold in the down and forward position. Their legs are masculine and straight with the rear legs a shade longer.
Be alert to signs of illness; like a lethargic pup, or discharge from the eye, nose or ears, or even a distended abdomen. Take care as the whole litter may be infected. And be sure to consult with other owners before picking a Rottweiler pup. It would be even better if you can tag a friend along who is an expert.