A soldier who is 32 years of age living in the UK with his family got to experience one of the rare phenomenons when his Rottweiler gave birth to 16 puppies instead of the expected 6. The soldier witnessed the birth of these puppies which is now the largest litter in the region.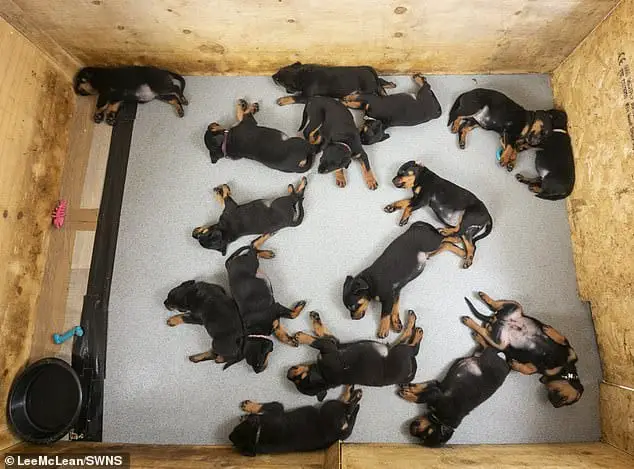 The infantryman known as Mark Marshall together with his family were glad to welcome the new addition to their house which is in a military camp. Being the military man he is, Mr. Marshall has imposed a military-style feeding style on the litter. They get 40 minutes intervals for eight puppies at a go allowing their mother who is called Roxy to have some rest.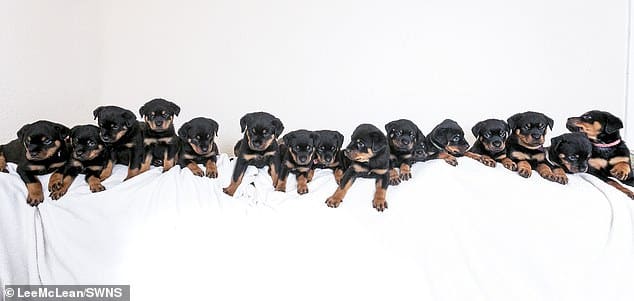 Although Mr. Marshall already had five kids, one who is a newborn, they were thrilled to share their 4 bedroom home in Weeton Barracks with the puppies. The feeding routine has been a major relief to Roxy who can now afford to have some resting time while Mr marshal and his wife Laura marshal feed the litter in separate groups. Their food consists of some special milk that is approved by the vets and is, therefore, safer and nutritious.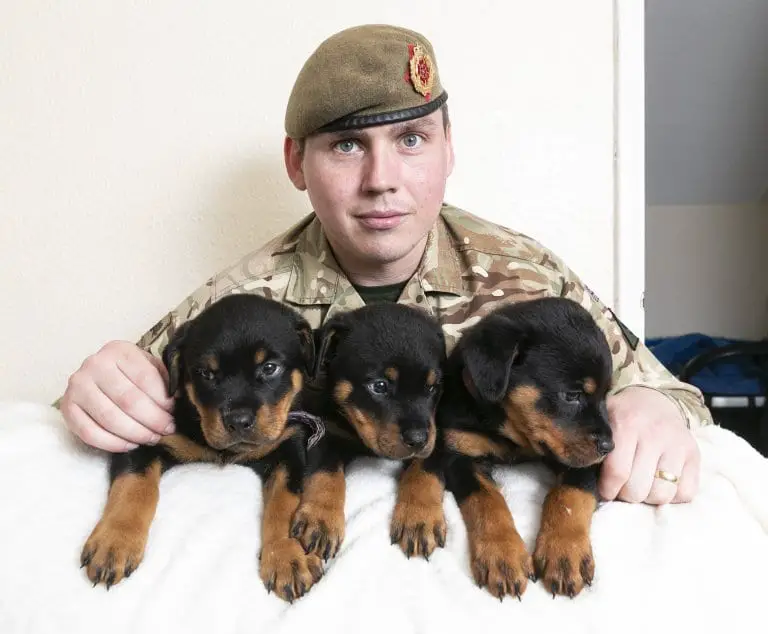 The 8-week old puppies were born in March and have now grown to be able to live on their own. They are ready to be united with their owners who come from different parts of the country try even though the Marshall's intend on keeping one. The one puppy named Bella will remain with her Rottweiler mother in the corporal's home.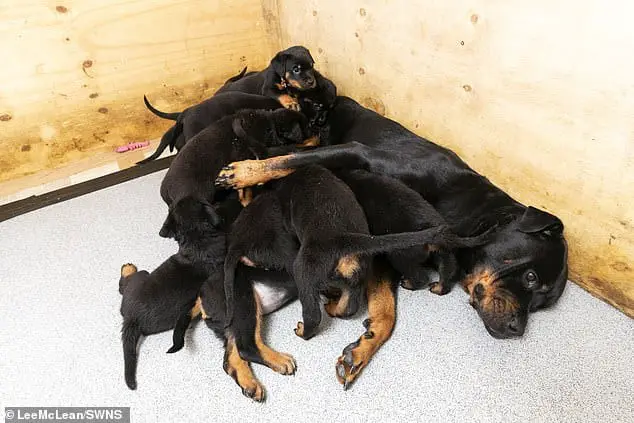 The Rottweiler went into labor in the early hours of March 12th. The Marshalls had never been such a pet before and as such didn't know what was happening. When they heard Roxy crying and hiding behind a sofa they didn't know that she was in labor and therefore took her back to bed. Roxy kept crying and when Mr. Marshal went back to check, one of the puppies had already been born. This was followed by an additional four puppies within the next 30 minutes. In approximately another 30 minutes, Roxy has given birth to a total of 13 puppies and when Mr marshal left to get her supplies, he got a message that 3 more had joined the group.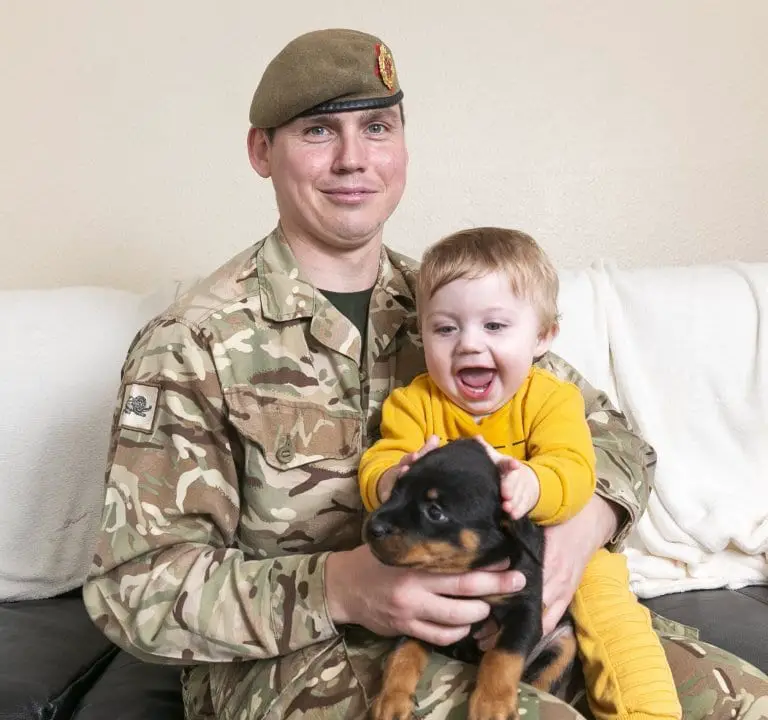 According to Mr marshal, when they took the Rottweiler for a scan only 6 puppies showed. That was a number they could handle and take care of easily but when 10 more came out they were shocked. He continued to state that even though they were surprised by the occurrence, it ended up being a good one.
Mr. Marshal, however, admitted that taking care of the canines hasn't been easy. Having to juggle between feeding them in groups of 8 and having to work while also taking care of their kids has been hectic, to say the least.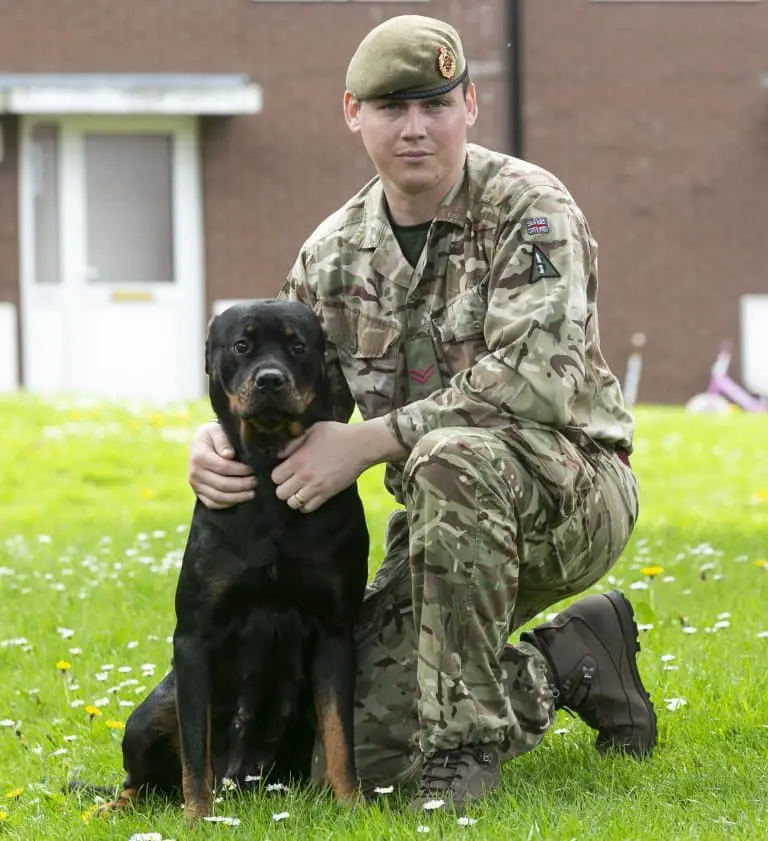 The canines were sold at a price ranging between £650 and £750. They are older than the youngest addition the Marshall fan who was born about four weeks after the birth of the puppies. A similar incident involving a litter of 18 occurred in 2009 but 2 of them died. Another took place in 2017 in Telford where 16 puppies were born. Mr. Marshall is however still debating on whether to apply for the official record.