What is better than a loyal and protective best friend? How about a loyal and protective best friend who is so fluffy you could cuddle and sleep with them? How about getting a Rottweiler and chow
The mix breed dog obtained by crossing Rottweiler with Chow is an adorable knight in fluffy armor. In most cases, they tend to inherit the color of the Rottweiler parent. However, their shape is that of the Chow parent. By the fluffiness of their coat, owners may be able to determine their shedding rate. The short coat sheds more than the longer ones. Still, many owners are advised to develop a routine of regular brushing.
Read: What Factors Influence A Rottweiler Dogs Price?
Diet Of Rottweiler And Chow Mix
The most complicated care issue with this mix is perhaps their diet.  It is important to figure out an exercise and diet routine for the mixed-breed. Too much weight affects the knees of the dogs.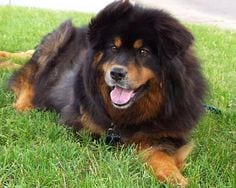 Rottweiler and Chow mix is sometimes not even a direct descendant of Rottweiler or Chow. Mixed breeds may also inherit characteristics of their long lost ancestors. Both Rottweiler and Chow are trained in offense and protection. Chows have a very dominant prey-drive and the Rottweiler's reputation as a military dog precedes itself. But a dog of this breed who is properly trained will be as safe as any other dog. Proper training is a must for this breed.
Read: Taking Proper Care Of Your Rottweiler And Shepherd Mix
Socialization Of Rottweiler And Chow Mix
It is highly important to make your dog go through socialization and training along with the physical regimen. The basic rules of obedience should be made clear to them while they are still young. They must be taught boundaries and behavior as soon as possible so that it becomes a part of their regimen as they grow up. Rottweiler and Chow mixes can be extremely energetic and inattentive as pups. Proper training is a must to streamline their strengths.
This mixed breed shows a considerable amount of intelligence too. Rottweiler and Chow mix can be seen herding animals like its Rottweiler ancestors. But like both its parents, it could be shy and wary of strangers. The American Kennel Club asks the owners to expect a 'bold but reserved dog'.
It takes a little teasing to open up this adorable creature unless you train them young. It is good for younger children after being trained by adults.
Taking the best of parents, the Rottweiler and Chow mix makes a good companion!