It is a major concern among owners to detect their pet rottweiler heat cycle. The breeding cycle in female Rottweiler is not very difficult to understand if you get to know the details.
The first heat cycle in a female Rottie starts at around 12 to 18 months of age. But some can have it as early as at 6 months of age. This doesn't mean that the dog is ready to breed. The heat cycle is repeated every 4 to 6 months but there is no hard-and-fast rule to it. Every dog's different and can have varying lengths of the heat cycle. There are 4 stages in a female Rottweiler's heat cycle.
Read: Rottweiler Barking: Pipe Down The Music Before It Becomes A Constant
Pro estrus Stage Of rottweiler heat Cycle
It marks the beginning of the heat cycle and lasts for 5 to 9 days. It can be identified by both physical and behavioral changes. The vagina will appear to be swollen and bleeding will start. It makes the dog flirty so she will show herself off to male dogs. You will need to observe these changes carefully. Generally, they also 'blow' their coats right before entering the cycle. Notice that male dogs will be trying to get on top of her but she will be resisting them. A more mature male dog will lick the female's vagina to know how ready she is to mate.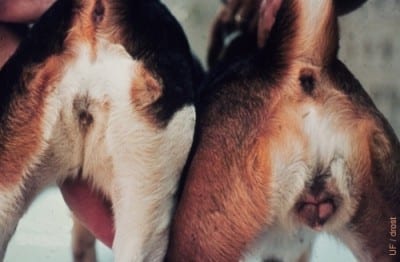 Estrus Stage Of Rottweiler Heat Cycle
It is when a female is ready for breeding and this too lasts for about 5-9 days. The male testing her earlier will now get a green flag from the female. She might even try to arouse him by mounting him. The vagina and penis 'tie' at this time and separating them may be dangerous to both at this time. The semen is delivered in the first few thrusts. Don't leave them alone during this process since sometimes the female might try to separate. You are to calm her down. A tie isn't necessary for successful fertilization though.
Di estrus Stage Of The Heat Cycle
The female will again become unperceptive to male advances. If she is pregnant, the diestrus stage will last until the babies are delivered. If not pregnant it may last for around 80 days. During this period, the placenta of the embryo is attached to the uterus which nourishes the baby.
An estrus Stage Marks The End Of The Cycle
It's the time between two consecutive heat cycles. It is easily identifiable since the female won't get attention from male dogs. Neither will she try to turn them on.
The gestation period in Rottweiler is of 63 weeks, give or take a week. This is the whole Rottweiler heat cycle for a female. Hope this proved helpful in knowing your pet's cycle better.