When you adopt a pet, you become very conscious about what they should eat, what products to use on them, and how to take the best care of them. You want to keep your Rottweiler healthy and happy. But is your Rottweiler healthy? Are they keeping fine? Find out.
Diet Of A Healthy Rottweiler
Rottweiler, like any other dog, is a carnivore. They require meat in their diet. The bags of dog food that you get in the market are usually grains. These are meat substitute for meat is costly. Such dog foods are usually cheaper containing more grains and are manufactured using chemicals and preservatives. This food is not only inimical to your Rottweiler's health but also a reason why your dog attracts diseases and suffers from weight issues.
READ: 10 Best Fruits and Vegetables for Dogs
Make sure that your dog has meat servings in their diet. How to ensure that? When you buy packaged dog food, instead of going for more expensive food, check the ingredients. It must contain meat or meat meal. If the ingredients read chicken or chicken meal, turkey meal or herring meal, opt for that bag of food. An adult Rottweiler needs protein content of 22-26%. While a puppy requires a protein content of 24-28% since they are in their growing stage. Check on the fat content as well. It must be about 12-16% for the adult and about 14-18% for the puppy. Excess consumption of fat can make your dog overweight.
Why Is A Healthy Rottweiler Diet Important?
The healthier your Rottweiler, the happier they are. A healthy diet can fetch you fewer worries about your dog. A healthy Rottweiler is more energetic, attracts fewer diseases, and is prevented from becoming overweight. They will also start looking better with their lustrous coat. A healthy Rottweiler will also prevent frequent visits to the vet.
How Is An Unhealthy Diet Inimical To Your Rottweiler's Health?
Try not to invite obesity into your Rottweiler's life. Rottweilers tend to be overweight due to overeating. Feeding them more and giving away too many treats doesn't mean a happier Rottweiler. Most of the Rottweilers are seen to be suffering from obesity that makes them unenthusiastic, lazy, and sluggish.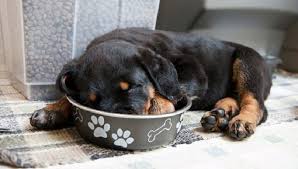 They prefer to sit in some corner and avoid all the playing and exercising which are of utmost importance to them. When your Rottweiler is unhealthy it will show on their skin as it becomes flaky and bulges appear due to increase in weight. A healthy Rottweiler also has a longer life expectancy than an unhealthy one.
READ: Dog Dies After Owner Fed It Popular Dog Food. FDA Finds Euthanasia Drug In These Dog Food Brands
So, check on your dog's diet and keep it healthy. A healthy Rottweiler is a long-living, happy Rottweiler and this is certainly something that you surely don't want to miss out on.