One of the biggest problems a Rottweiler faces may be the problem of obesity. Obesity in dogs is very common. Just like in humans, in dogs too it is caused due to excessive and unhealthy binge eating. What adds to this is a lazy Rottweiler who refuses to exercise or engage in any physical activity. Such a situation makes way for several diseases that may involve serious consequences leading to death. In case you have a fat Rottweiler, here are some diseases you need to make sure your dog is protected from.
1. A Fat Rottweiler Is Sure To Have Arthritis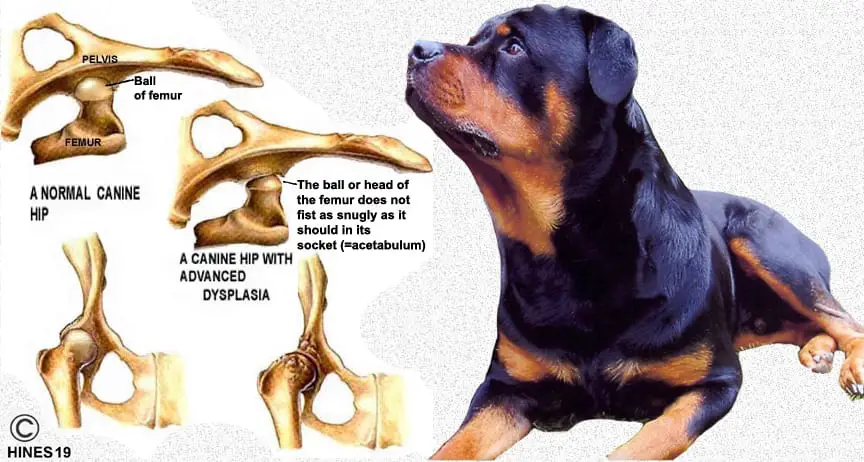 Since obesity causes the dog to put on that extra weight, it simultaneously puts extra pressure on their legs. This results in bone and joint problems that develop into arthritis. It also invites diseases like hip dysplasia, spinal disc disease, and joint ligament cracks.
READ: Rottweilers – Fun Ways To Keep Them Active
2. Diabetes Can Be A Threat To A Fat Rottweiler
The excess fat in a Rottweiler forces its body to produce more insulin to tackle that amount of fat. This forces the dog to resist the excess insulin that causes diabetes.
3. Fat Lowers Heat Tolerance
Excess fat on the Rottweiler's body lowers their capacity to tolerate heat. This is the reason that many Rottweilers die of heatstroke.
4. Unavoidable Skin Problems
Dog owners find it extremely difficult to groom a fat Rottweiler. Lack of proper grooming causes the dirt, bacteria, and other harmful elements to accumulate on the Rottweiler's body which leads to infections, skin ruptures, and rashes on their skin.
5. Gastrointestinal Problems Can Be Painful
Pancreas and intestine problems are common in obese Rottweilers which results in painful inflammations. An extremity of this situation can also cause death.
6. Obesity Causes Respiratory And Cardiac Problems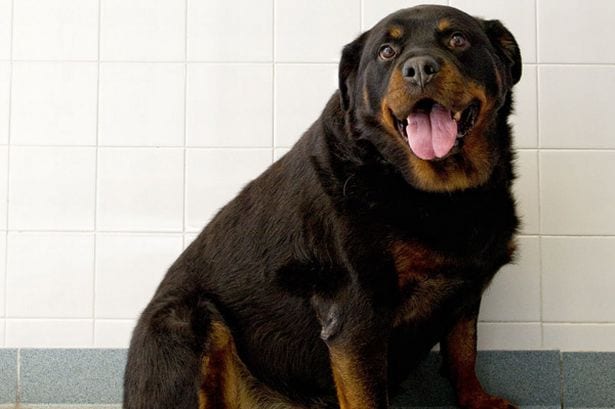 Obese dogs, like humans, are likely to develop respiratory and cardiac problems. It is because the thick fat accumulates in the chest cavity causing a hindrance to the heart and lungs expansion when they breathe. When the lungs and heart fail to produce enough oxygen, the problems worsen.
READ: Average Rottweiler Weight: Steps To Take To Keep Them Within The Ideal Range
7. Liver Issues May Lead To Death
Fat accumulations around the liver make it difficult for the liver to function normally and systematically. Liver failures can be life-threatening, pushing the fat Rottweiler towards an early death.
These are some undesired problems that a fat Rottweiler may have. However, the prevention of these solely depends on the owner as to how they rear their Rottie. Two important things that are needed to be taken care of are proper diet and adequate exercise of the Rottweiler. Check on your dog's calorie intake and make sure they eat food with the right amount of protein, vitamins, and fat. Physical activity is a must and deviation from these can be life-threatening for a fat Rottweiler.