Rottweilers, although giant in physique, have a gifted physicality that helps them adapt in any situation. This physique can at times make swimming for them a tad bit challenging. But, if you are sure you want to motivate your Rottweiler to swim, then you are in the right place.
Here are 3 methods that many professional dog trainers use in order to make the dogs swim perfectly. Although keep in mind that you must have proper tools of safety for your dog while training them.
1. The Method Of Kid Swimming
Take your Rottweiler to the water but make sure you are at the shallow end. The water should be calm and tranquil so that you can motivate your Rottweiler to swim. Get a dog's life-vest and make them get in it while you get in the water at the same time.
Carry your Rottweiler while getting them in the water and be positive the whole while. You should also keep talking to your dog so that they feel motivated to swim. Apart from talking, make hand gestures to show them your encouragement and excitement.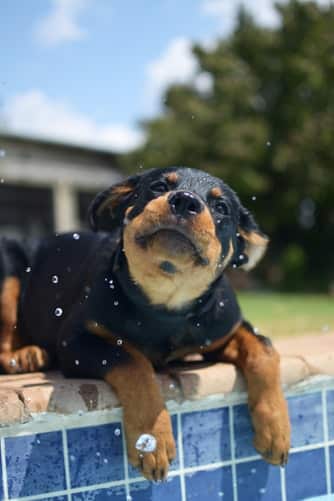 2. Bribe Your Rottweiler To Swim
You can use a treat to entice your Rottie to swim. This would make them peddle their way towards you in the water. You can start by sitting on one shallow corner with your dog and then throwing treats in the water. This would encourage your dog to go and fetch for the treats. And since the treats are at the shallow end, it wouldn't be unsafe.
READ: Rottweilers Are Both Smart And Goofy: Establish Yourself As The Leader If You Want To Keep Them That Way
3. Get Your Rottweiler's Friends
Since dogs learn comparatively faster with the company of other dogs, it would be very helpful if you get a dog your Rottweiler is friends with. This would motivate them, and they would feel it is normal and easy for them to swim.
The best part about teaching your Rottweiler to swim is that you get to swim with them! This helps your dog to see it as a fun activity rather than a learning task.