Worried about the best food to give your Rottweiler puppy? Rotties are strong and confident about their own selves. However, due to their strength, they have to given their fair share of food. Diets are something that you have to maintain since the time when your Rottie is just a pup. You have to ensure that you are giving the best food for your Rottweiler puppy. At first, it might be difficult to choose the right kind of food for your Rottie pup. But with the right guidance, you can give your baby the best food and keep them really happy too.
Read: Tips On How To Successfully Train Your Dog
Since Rotties are strong and muscular, they need a lot of proteins. But that's not all – there should be enough calories and organic food as well to prepare a wholesome diet for your pup.
The Best Food For Your Rottweiler Puppy
Protein-Rich Food
Your Rottie needs protein. So, it is essential that you give them the right amount of protein. Don't go to the store and opt for products that have a vague description. The best food for your Rottweiler kid will be based on lamb, chicken and other meat-based substances. Many cheap products adulterate the protein-rich diet with grains and corn. Focus more on fish and poultry to maintain the health of your puppy.
Organic-based food
It is best to give your Rottweiler puppy organic food. Organic food does not have any chemicals pumped into it. This helps the growth of your Rottie without any kind of chemicals getting into the diet. Not only are chemicals harmful to your Rottie, but they can even trigger an allergic reaction in them.
Nutrition Requirements of a Rottweiler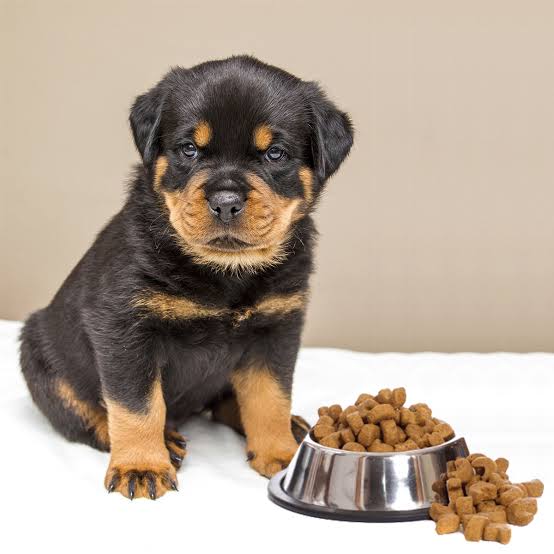 Rotties are muscular and so, they require a lot of proteins. But, then, only proteins will not help them much. They need their share of carbohydrates too. So, when you are going to search for the best food for your Rottweiler pup, you should always check what is given on the label. If it is 25% or more protein, then, it indicates that the other part of the food is carbohydrates. It means the food is perfectly balanced.
Rotties also require calcium and fat. Food content should have 12-15% of fat and 0.8-1.5% of calcium. The fat will help in muscle mass growth and the calcium will help to build strong teeth.
Read: Rottweiler Tips For Feeding And Care
The things that you should look for while buying the best food for a Rottie pup are:
1. 15-16g of carbs per 1kg of puppy food for Rottweilers.
2. 19 calories should be given per pound – as per the weight of the puppy.
3. 2100 calories for adults engaging in less activity. 2500 for very energetic Rotties.
4. Natural vitamin D sources for calcium – like fish oil.
5. A healthy balance of Omega 3 and 6 levels for a smooth coat.
6. Glucosamine and Chondroitin for the health of the joints.
Dry Or Wet Food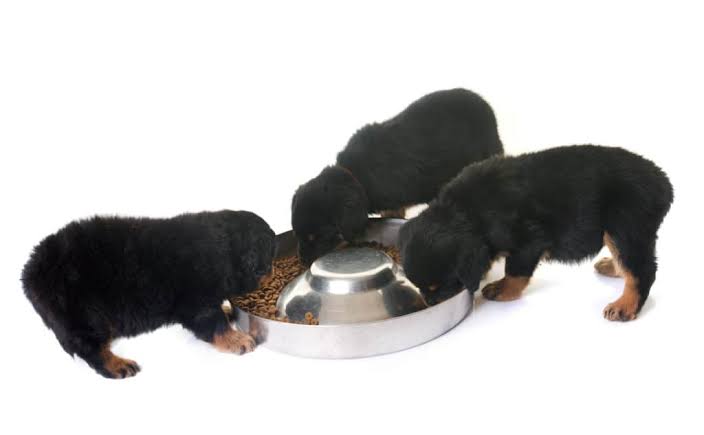 Rotties generally drink less water. So, it is better if you give your Rottie a mix of both wet and dry food. That way, the water intake of the Rottie increases as it is integrated with the food itself. There is no perfect ratio of dry food to wet food. However, for optimal physical function, Rotties need a lot of water. Wet food helps to ensure that, though it may not taste the best.
A good food diet suggestion could be:
Chicken with bone and vegetables – 4 days a week.
Beef or elk with vegetables – 3 days a week.
Among these days of meat, choose 1 or 2 days on which you can give the dog a raw meaty bone from the necks or knuckles.
When they are growing up, give them 3000mg of fish oil every day. Start off with 1000mg and then, move your way up to 3000mg over a 2-week period.
So, get the best food for your Rottweiler puppy and ensure that they grow healthy and jolly!