Are you worried about your Rottweiler's health? Do you think it has started to look plump and has gotten lazier? Your Rottweiler can always use a little extra energy. You can use these fun exercises to keep your Rottweiler healthy.
1. Innovative Frozen Bottle Game
It can work as an easy and innovative way of enjoying the game time with your Rottweiler. All you have to do is fill a 2-3 liter water bottle and keep it in the freezer until it freezes completely. You can then toss this bottle around and your Rottie would stay hydrated while playing with it! This works as a great toy during the summertime exercises.
READ:Importance Of A Healthy Rottweiler Diet
2. Dance With Your Dog
As silly it may sound, it is the most entertaining and fun way of exercising to keep your Rottweiler healthy indoors. Just lift their paws and hold them like a person's hands and dance to your favorite tunes!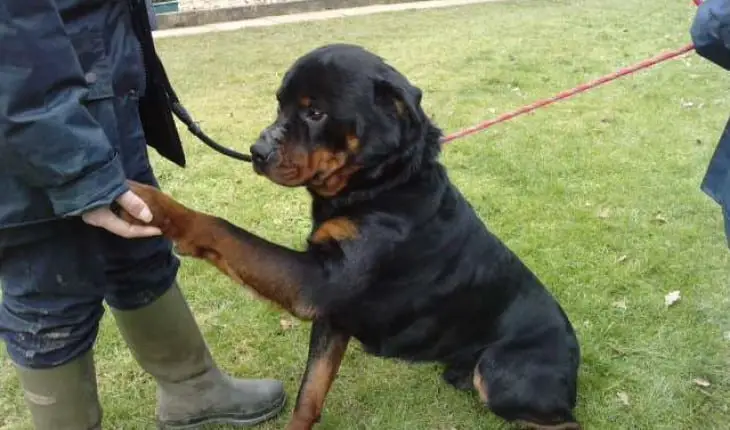 3. Use A Laser Pointer
It's another fun way to make your dog go crazy. Get a laser point pen, the one which isn't harmful and comes as toys. Use these laser point pens to point to your dog. Your Rottweiler would love chasing these laser points and never get bored of this game.
4. Design An Obstacle Course To Keep Your Rottweiler Healthy
Make your own obstacle course in the house. You can do that by setting up your furniture in a certain way. Like using cushions to make a tunnel, etc. This too can work as a great exercise to keep your Rottweiler healthy.
READ: Valuable Rottweiler Training Tips That Really Work
5. Play The Hiding Of Treats Game
The best thing about this game is that you make your dog not only healthy but curious about playing. This would increase the alertness of your dog while the exercise would keep your dog healthy. You just have to hide a treat or a toy and motivate your dog to search for it.
The best ways of making your Rottweiler fit is by innovating fun exercises that will keep your Rottweiler healthy. Keep playing!