Just to have fun, Gary Gregory taught his rottweiler of years, Megan how to open the front door of his house. But recently, that trick saved his life, as a result of Megan ability to open door for paramedics after Gary was seriously ill and even passed out.
Gary suffered internal bleeding and eventually collapsed at his home as he called for help. As the paramedics came, they struggled to get to Gary since the front door was locked. Megan then sprang into action and was able to let the rescue team in.
Gary wouldn't have likely survived without her assistance, say the paramedics. Gary calls his lovely rottweiler a "superstar" and "a real hero" and says she really deserves an award.
Right now, Gary is in the meantime scheduled for an operation, Megan is keeping a close eye to ensure he does not come to any more harm again.
Megan then bounced down until she was able to hit the handle of the door of the home as her owner just lay on the floor dying.
It sprang open and hen medics quickly rushed in to assist her Mr Gary Gregory who is her owner, who already passed out after suffering from an internal bleeding.
my rottweiler named Megan just saved my life,' there is no any doubt, said the 32-year-old Gary.
By letting in the paramedics, they were really capable of working on me. Without Gary, it would have really been an entirely different thing.'
He managed to contact 999 before he collapsed from a hemorrhage – just a day after undergoing an endoscopy at the nearby hospital.
Later, doctors made him to know that he suffered from a tear in the process, which was searching for gallstones in Gary's pancreas.
Eventually, the paramedics were able to go in after unlocking the door by Megan, neighbors then told them to just push the handle down.
His two other dogs were licking his face in order to wake him up.
Also, Mr Gregory texted Sean Nichols , 49, his partner before passing out.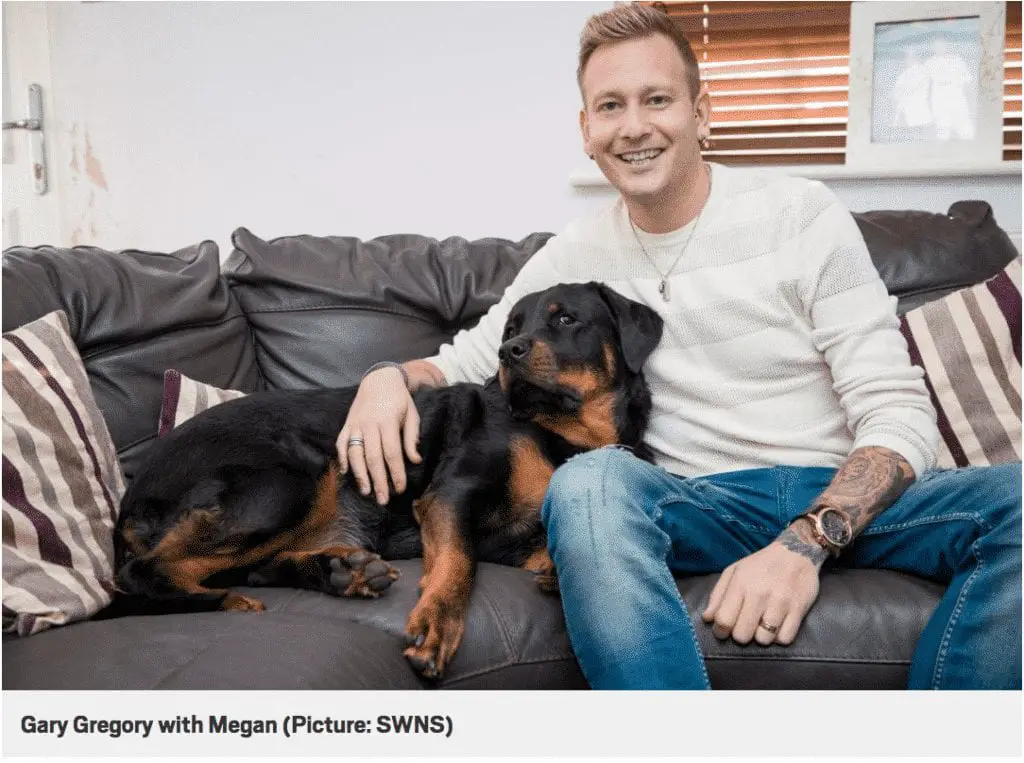 He said: I thought I would just die, so I had to let Sean know what he really meant to me.'
Now the pet owner wants his Megan, to be recognized officially..
People simply give Rottweiler a very bad name however Megan is truly a gentle giant. So I'm thankful to her,' he added.
She's really a hero, that deserves to be awarded.
Following the incident, Mr Gregory spent 2 days in hospital and then his gallstones removed by next month.
Read Also : Rottweiler Saves A Woman From Tiger Attack