Most people get surprised when they happen to spot long haired rottweiler, in fact, they get confused on what dog breed it is. When it comes to rottweilers, a majority of people only know of the short-haired traditional one, and when they encounter a long haired one, most usually conclude that it is not a pure breed. This is because this type of dog is hard to come by.
It is very normal for a Rottweiler to give birth to a couple of puppies with more hair than usual. Such rottweilers can either be born with long hair or rough hair and it is very uncommon for them to be born from a mixed breed of a rottweiler and another dog breed. They usually come from a pure breed.
This is a very healthy dog breed. It does not have any reported abnormal health issues. They are just like the normal smaller versions, just more hair and bigger. If you luckily happen to get a rottweiler with long hair, you should not be worried about any additional health issues. They do not have any specific or genetic health condition that is brought about by the long hair.
Long Haired Rottweiler
The long hair rottweiler is a very rare dog, especially in America. This is because there are some breeding restrictions established by The American kennel club (AKC) which controls the population of certain types of dogs.It is even rare to find it in the show rings because it does not meet the standards put by AKC. Most people who know about this dog are surprised by this decision because it is such a beautiful dog.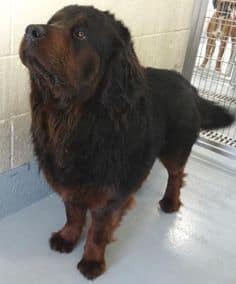 The demand for this dog is very large. However, finding a breeder that is selling them is such a hard task. This is because many professional breeders follow the strict rules of rottweiler breeding preventing them from selling the unaltered long haired Rottweiler.
How the long hair rottweiler comes about is still surprising to many. These are very rare dogs. when two long-haired rottweilers are bred together, chances are, you will only have one or two long-haired ones in the litter. It is very sad right now that due to the strict kennel club standards a majority of the long hair rottweilers will be put to death humanely (euthanized).
Currently, there have been rampant cases of the long hair rottweiler being bred for the wrong reasons. The Rottweiler community is strict on breeding rottweilers only about ethics. However, any long-haired puppy that is born is sold as a personal companion rather than being euthanized as what is done by the America Kennel Club. If you are wondering how you will get one, then the Rottweiler Community is just the place.
The long hair rottweiler makes a great family dog. If you are thinking of investing in this beautiful dog then i would certainly advise you to. They are so sweet and gentle just like their siblings. And so far, there have been no signs or any reports of temperament change brought about by the long hair gene. If you are in love with rottweilers and also like long-haired dogs, then the long hair rottweiler will be just the dog for you.