So, do you own a rottweiler puppy and your puppy is reaching the crucial 6 Month-Old Rottweiler stage? . Rottweilers are one of the most famous and misunderstood dog breeds. Owning a Rottie is can be challenging but what is most difficult is to keep track of their health, height and training. If you have a 6-month old Rottweiler puppy, you should always keep an eye on them. You should give them enough care. Here are certain ways you can keep a check on your Rottweiler puppy. Be aware that these are going to be estimates and not accurate predictions. Every dog is different and so you have to treat them as such.
Estimated Height And Weight Of A 6-Month Old Rottweiler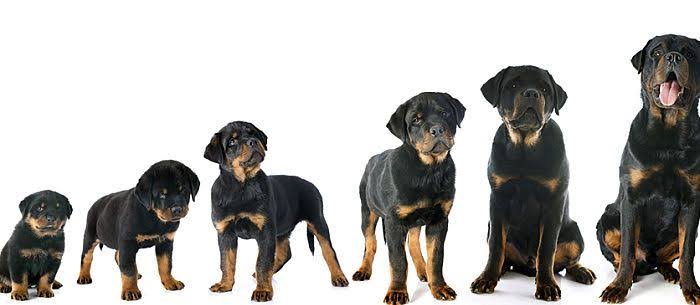 Rotties are robust and muscular dogs hence their build is medium-heavy. They are also a relatively slow-growing breed of dog. At 6 months of age, they weigh generally 63 lbs to 70 lbs. Remember female dog will weigh less than the male.
The estimated height at this age is about 23 to 23.5 inches. Note that Rottweilers are not a very tall breed. About two-thirds of their adult height is attained within 6 months.
Read: Keep Track Of The Growth Of Your 6 Month-Old Rottweiler And Ensure Their Good Health
All this, of course, is not ideal or average in any sense. You can keep track of your Rottweiler's height and weight by taking monthly measurements.
Training A 6-Month Old Rottweiler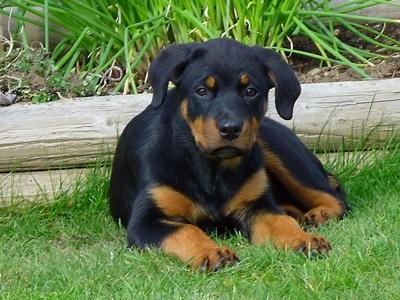 According to rottweiler training experts, It is ideal to start training your pup as soon as possible.But if you didn't start very early, you can start now. With growing age, dogs learn slower but eventually, they do learn. They are intelligent and will learn soon but you've to be patient. Don't use physical force if they do wrong – it instills fear in them.
Also, giving them treats is a tricky part because Rottweilers tend to gain weight fast. So be careful and offer treats in small amounts.
Realize that your pup is an adolescent now and will be difficult to tame at this stage. You have to be loving and patient with them and let their intelligence grasp what you want to teach them.
Read: Have You Got A 1-Year-Old Rottweiler At Home? Here's How You Can Deal With Their Excessive Energy
In case you feel like your pet is very under-weight or is way shorter, you should get them to a vet. Such conditions may arise out of a lack of a balanced diet or some ailment. Getting your pup treated properly and giving them proper nutrients and medicines (if needed) is important.
Lastly, don't grow anxious over your 6-month old Rottweiler if they are not of the exact height and weight as mentioned above. Don't try to make them grow faster by giving them a more protein-rich diet as it will affect their health.  Love your pet for what they are and not only for their outer appearance. Keeping them healthy and fit should be your only goal.