So, your Rottweiler and Shepherd mix is growing up and you are worried that they might turn out to be aggressive? Yes, they are muscular and have a strong jaw. That's the beauty of them. However, these dogs have a very protective instinct too. This creates a problem for the parents in most cases. They know that they need to socialize their Rottweiler and Shepherd mix in a way that the dog knows how to behave with close members of the family, children and other small animals.
But the way Rottweiler and Shepherd mix act, especially due to their jumpiness and their high prey drive, they might turn out to be quite scary. That's why it is essential to start training them from an early age. Generally, even when they are around the age of 9 months and developing, you should start training your Rottweiler and Shepherd mix.
Read: Rottweiler Training Guide – How To Properly Train A Rottweiler
Here are some of the ways in which you can train them:
The 'Mark Good' Behavior
Step 1: Unique Sound
In this step, you will create a unique sound and you will make this sound like something that will be different from the other sounds that your dog knows. Ensure that this sound becomes established as a good dog behavior sound.
Step 2: Establishing the sound
You know that you need to establish the sound like the good behavior of the dog. Now, how do you do it? There are many ways you can do it but one of the effective ways is to follow up the sound with a great treat – it will make the dog associate the sound with rewards.
Step 3: Reading your Rottweiler and Shepherd mix
Try to understand what and why your pet is doing something and start to work with it. For example, if your puppy is going to mess the carpet, read the mind and show them the door so that they could do the deed outside.
Step 4: Variety of rewards
Do not stick to one reward. Try to diversify your rewards so that your puppy gets pleasantly surprised too.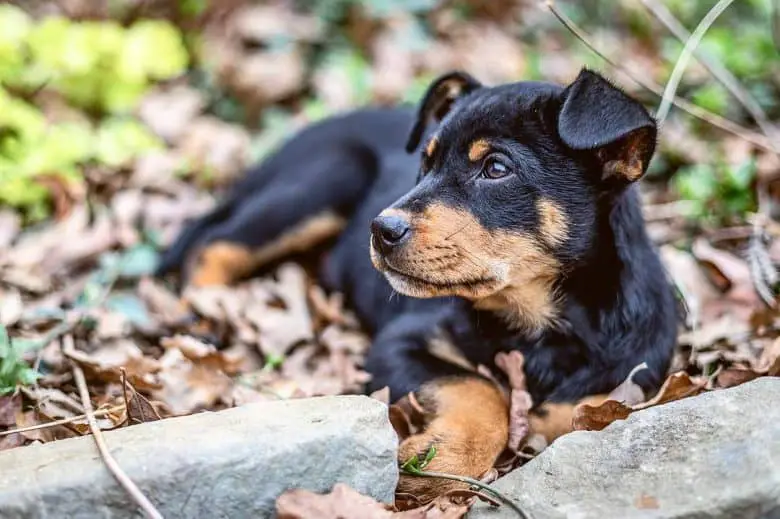 Step 5: Command words
Once your puppy knows what to associate a word with, you can add command words like Sit or Roll so that the puppy can understand what is being asked of them
The 'Mirror Me' Method
A Rottweiler and Shepherd mix puppy loves their parents and sticks to them constantly. If so, then, you can teach your dog somethings by making yourself a mirror.
Step 1: Acting and naming
The first thing you can do is something as simple as sitting down. Sit down and name the act of sitting down.
Step 2: Reward copying
When you see that your rottweiler and shepherd mix puppy is copying you, you can reward it with a variety of treats.
Step 3: Command
Now, that your Rottweiler and Shepherd mix knows how to imitate you and since you have named the act, now, just use your command instead of sitting. 
Step 4: Calming 
If your puppy has mastered sitting down, then, you might want to take a step higher and teach him all about being calm – by actually acting calmly in a certain situation like when visitors are around.
So, get your Rottweiler and Shepherd mix disciplined and amazing!