As the name suggests, it is a cross between a purebred Rottie and Basset Hound. Rottweiler Hound mix is a pretty common breed since both are compatible with each other. It would be no surprise if you have already seen one such dog since they make great pets.
Rottweiler Hound Mix Appearance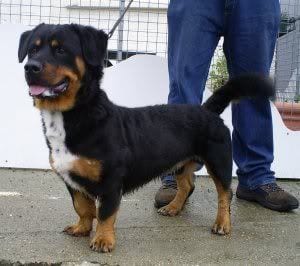 The outer appearance of any new breed depends on the parent breeds. To know the appearance of a Bassetweiler (nickname for a Rottweiler and Hound mix) you should see their parents.
Height will be in the range of 12 to 25 inches. Weight may be anywhere between 45-50 pounds to 100 pounds.
Read:What Are Albino Rottweilers And Should They Be Adopted?(Opens in a new browser tab)
Rottweiler Hound Mix Temperament
Again, the nature and attitude of a mix depend on the parents' nature. But broadly speaking, they are gentle and friendly dogs. A little bit of stubbornness can be seen due to the Rottie parentage. But overall they are very lovable and are good family dogs.
Bassetweiler Health Concerns
They are relatively healthier dogs with fewer health concerns. The vulnerable body parts are eyes, and joints (dysplasia). They might also face allergy issues. To know your dog better, a DNA test will be good. Knowing your dog's parents and their health problems will help you avoid them.
Grooming A Bassetweiler
Good news for those who seek low maintenance dogs, here is one! This is because Rottweiler Hound mix dogs have a short coat. Brushing them once a week is enough to make them look good. Bathing is important but avoid frequent baths since it dries up the fur. You need to take care of their low-lying ears though.
Exercise For Rottweiler Hound Mix
This breed requires mental as well as physical exercise. Games like fetching and chase bubbles are apt for them. They also need to be taken out for regular walks.
Read: What Are The Traits Of A Rottweiler Collie Mix?
Training A Bassetweiler
Rottweiler Hound mix pups are willing to please their owner and so are easily trainable. Early age training will be much helpful with this breed. Give them leash training and socialize them well with other dogs. Treats and praises are required to motivate their good behavior.
Feeding Your Rottie-Hound Mix Pet
Any good brand that makes food for other dog breeds of similar size as your pet will be good. Be sure to check the nutrient quality of the food. Dry dog food is especially good for this mix breed.
Now you know all about the Rottweiler Hound mix. So you can decide if this dog is a good pet for you or not. But our last verdict is that they are adorable, friendly, and loving