If you have gone through the growth chart of the Rottweilers as per their age, you might notice that they are average weights. There is a reason why these weight charts provide the average weight and not the precise ones. That's because there are so many different factors that come into play when it comes to the weight of a dog. Food is, of course, one of the reasons why an accurate weight cannot be put down. However, if you have a big Rottweiler in your home, you might be a bit worried. If your Rottie is eating proper food and if you maintain the right diet for them, there is no reason for your Rottweiler to get so big. Or so it would seem. Naturally, you are probably worried. However, as mentioned earlier, there can be several reasons why Rottweilers can grow big.
Read: Following The Rottweiler Weight Chart: Here's What You Need To Know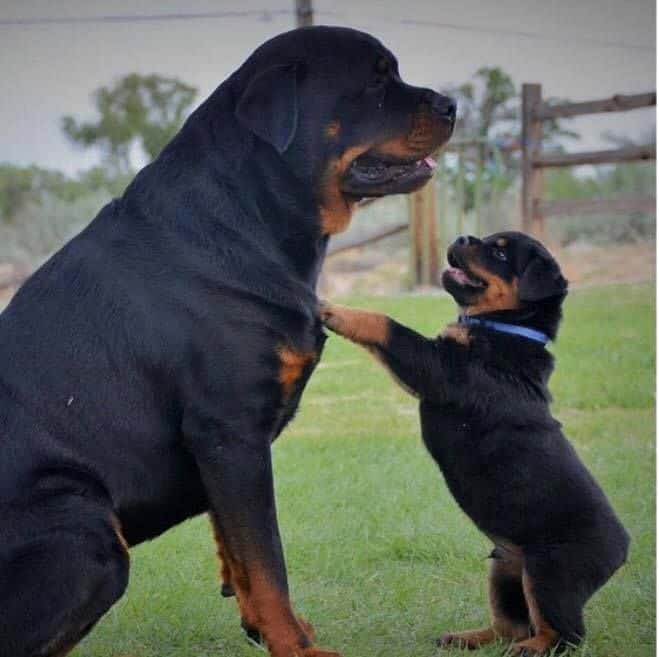 Here are three main reasons why Rotties gain weight:
Skeletal Structure Of A Big Rottweiler
A big Rottweiler can have a completely different skeletal structure than a regular Rottweiler. Skeletal structures are dependent on several things, one of which is weight. Just like humans, Rotties can have different skeletal structures as well. In these cases, when you come across a Rottweiler, you can understand the skeletal structure of the big Rottweiler is different. They have the bone structure to hold their large weight and not feel uncomfortable by it. If your Rottie is not showing any signs of discomfort or illness, then this is completely natural.
Genetics Of A Big Rottie
Genetics play a huge role in defining the weight of a Rottie. Genes can also alter the skeletal structure and so, genes can directly tie in with the previous point explaining how the skeletal structure of a Rottweiler contributes to their weight. However, the weight itself can be a genetic issue. Some Rotties are fast growers. They grow fast when they are in the puppy stage but after a certain stage, their growth rate slows down. At this time, other slow starters catch up with these Rottweilers and in the end, all of them have almost equal weight. So, a big Rottweiler, in this case, is quite natural.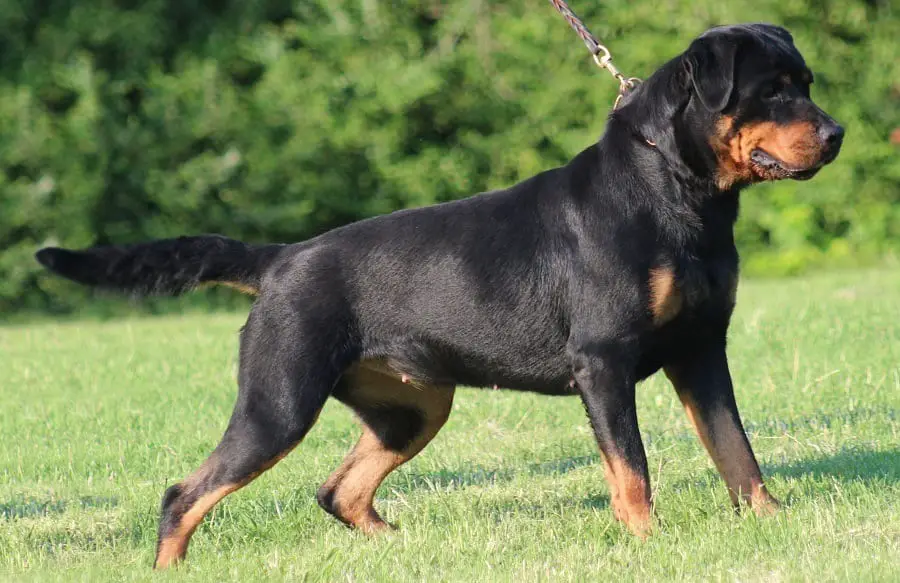 Read: Keep Track Of The Growth Of Your 6 Month-Old Rottweiler And Ensure Their Good Health
Food
Finally, food can be a fault. If you are not maintaining the proper diet for your doggo or giving them fatty foods, then your Rottie will start gaining weight. This way, you can even make your Rottie become obese. Rotties are energetic dogs and they should be taken out, fed a balanced diet, and given a lot of exercise. An obese Rottweiler can lead to terrible diseases of the dog.
So, you don't really have to worry too much about your big Rottweiler. However, if there are signs of discomfort, then you can visit a vet.