Big dogs are susceptible to weight gains for many factors that are not always about their food. Many elements come into play to keep a Rottweiler in perfect condition. These large, courageous, intelligent dogs are vulnerable to numerous health issues if their weight is not checked regularly, and measures not taken to keep them under control. A Rottweiler weight chart is a vital reference point to ensure that you keep an eye on the problem at all times. But remember that the weights are estimates.
Factors Influencing Weight Change
Numerous factors contribute to fluctuation in the weight of a Rottweiler. While food is a constant, any sign of an abrupt gain in weight can be attributed to a lack of exercise. Rottweiler is a pure outdoor breed and any break in their regimen will lead to an abrupt weight gain. This is a common occurrence during winter months when the Rottweiler is confined indoors. Measures other than outdoor exercises like dietary restrictions are needed to keep the Rottweiler's weight within the limits in the chart.
READ: How, What, And When To Feed A Rottweiler Puppy?
Determining the correct nutritional requirement and serving sizes are important. A factor normally overlooked is the system of treats for training and rewards. These treats should be a part of the Rottweiler's diet and if ignored, can upset their dietary routine.
Following The Rottweiler Weight Chart: Remember It Might Be A Bit Different For Your Dog
The first point to remember is that a chart is an approximation because your Rottweiler wasn't 'made' to fit certain specifications. So every range has its upper and lower limit and it is ok if your Rottweiler's weight is around the range given in the chart. Nothing is absolute or exact.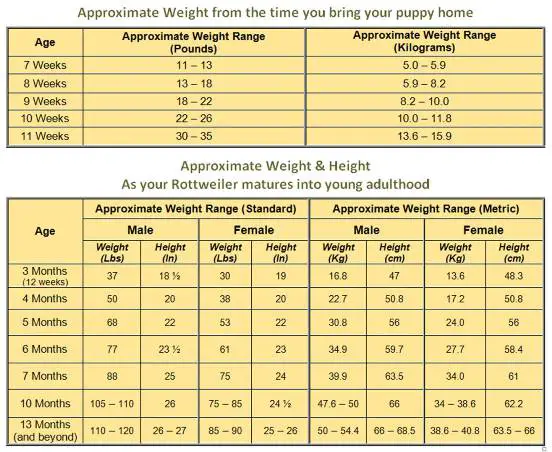 Discerning Reasons For Variations From The Range
If you strictly go by the chart, you will end up feeling that your dog is either over or underweight. But do not forget to consider a few other things. Even siblings grow at different rates. Also, the rate at which the parents of you Rottweiler matured would be a big factor. Be sure to collect this information from your breeder and co-relate it with the Rottweiler weight chart.
READ: Rottweiler Growth Chart -Rottweiler Height Chart -Rottweiler Weight Chart
Health Issues
There are also many acquired or genetic health problems that might plague your Rottweiler and influence their weight. As a Rottweiler owner, you need to be aware of the issues. Endocrine system problems and cancer that afflicts the lymphatic system may cause a lack of appetite and consequently lead to loss of weight. Thyroid diseases may cause rapid gains in your Rottweiler's weight.
Finally, remember that any weight chart is an approximation. You do not need to be obsessed with minor variations if your dog is otherwise healthy. This is a slow-growing breed and will not be fully grown until they are at least 18 to 24 months old. Some males do not gain their full adult weight until they are six years old.