Mixed breed dogs are as loving and loyal as purebreds. They acquire characteristics, both physical and temperamental from both parents. If their parents are temperamentally different it becomes difficult to guess which parent the puppy will take after the most. The Chow Rottweiler mix is unique among mix-breed dogs as their parents seem like quite different breeds but actually, they have quite a few similarities in their personalities.
Left to their own temperament, both the Rottweiler and Chow Chows are naturally very protective. They require a lot of socialization to acquaint them with family. They also are huge in size, even as puppies. The Chow Rottweiler mix requires a copious amount of exercise and mental stimulation.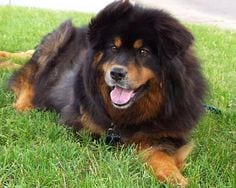 The Rottweiler is a medium-large size breed that descended from the drover dogs in Roman times. They were given their name after the town of Rottweil in Germany. They were used in Germany for herding and drawing carts. In modern times they are known more for their guarding abilities. They are incredibly courageous and intelligent. But at the same time, they are incredibly playful and love being the center of attention.
The Chow Chow is a sturdy dog, squarish in profile, with a broad skull and small erect ears rounded at the tips. The breed originated in China. The breed has a dense coat that can be both smooth and rough. The fur around the neck is particularly rough. It gives the Chow Chow a distinctive mane. They normally come in five colors including black, red, cinnamon/fawn, blue, and cream.
They have straight hind legs that give it a sturdy gait. A distinctive feature is their curly tail. The tail has thick black hairs that lie curled over their back. the tongue is blue-black/purple. This is a distinctive feature with the Chow Chow.
Many Chow Rottweiler mix share the coloration of a typical Rottweiler which is tan and black. This comes out as the dominant color.
Some Chow Rottweiler mix has a shorter coat, much like the Rottweiler. They are easier to brush though they shed more. Some mixes are fluffier, more like the typical Chow. They need to be groomed but they shed only seasonally.
The Chow Rottweiler mix lives for more than 10 years, at times even longer. They have relatively fewer health problems than individual parents. But major weight gain may result in dysplasia and other joint issues.
A key issue with the Chow Rottweiler mix is the chance of aggression if they are not properly trained. They have the potential to be a little aggressive because of the nature of their individual breeds. The Chow Rottweiler mix needs a very strong training routine from day one. But always follow a positive training regimen based on rewards. Familiarize them with the family from an early age. Socialization will curb their hostile behavior.
It's obvious that the Chow Rottweiler mix has some inherent risk factors, but they are a loving family pet only waiting to be properly trained. Be sure to give them the required training, the right diet, and take care of the health issues. You will definitely be rewarded with a protective and lovable family member.