Rottweiler rescues attempted rape victim
Jake was only 2 years old when he was taking his normal early evening walk with his owner, Liz Maxted-Bluck.
The pair was passing through a park in Coventry, England, when Jake suddenly stopped as he heard screaming from a wooded area nearby. With no hesitation, he ran to investigate. Liz followed him.
What they found was a man attempting to molest a lone woman. She had been dragged into a dense hedgerow nearby.
Jake didn't delay. The Rottweiler charged at the assailant and, literally, hounded him away. Jake's instinct and protective side then came into play as, once the intended victim was safe, Jake returned to her side and circled the weeping woman until Police could arrive.
Speaking to UK journalists, Jakes owner was obviously proud of him. Mrs Maxted-Bluck said: 'Jake was just incredible and probably saved the woman from being raped.'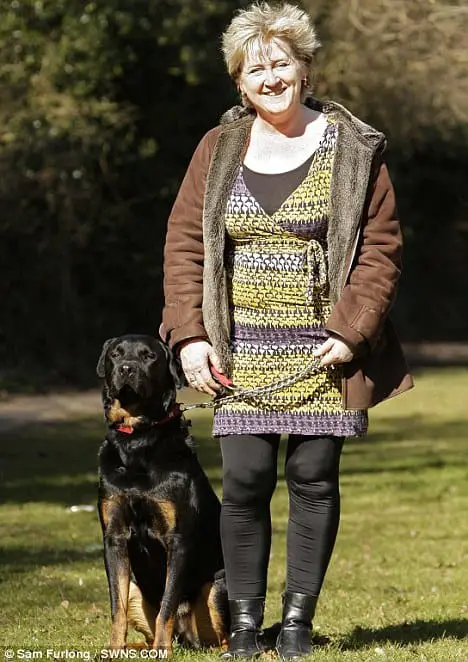 'He has always hated conflict so when he heard her screaming he must have known someone was in trouble.'
'After he ran back to the woman I rang the police and he circled us like he was guarding us. The woman was very grateful.'
The police response was swift and the 18 year old attacker was quickly apprehended and arrested.
During the subsequent trial, Mrs Maxted-Bluck, testified. She said: "I heard shouting and screaming but thought it was just kids but Jake ran off into the woods.'
'I went to catch up with him and the next thing I knew this bloke is running towards me a terrified look on his face and Jake is about two feet behind him.'
'When I caught up with the girl it was strange. It was like Jake knew what had happened.'
'Despite being off his lead, he stood next to us watching out, as if he was guarding us.'
The judge in the case at Warwick Crown Court praised Jake's heroics.
The aggressor was found guilty and sentenced to four years in prison.
We can only guess at what the outcome of this attack could have been but we can only echo the feelings of the judge and state that Jake truly is a hero.
Jake's swift response, and his owner's immediate calls to the police for assistance, definitely saved this young woman from a serious sexual assault – or worse.
Jake's selfless act assisted authorities in taking a predator off the streets.
Jake had been a rescue dog before finding a home with Liz and her family. He had been a victim once too. He was saved and he obviously paid that favour forward. He saw justice done.
For that…. We salute him!