In 2012, Ben Harworth and his family needed to move from Georgia to South Korea. Ben was in the military and had been given another task. Sadly, they couldn't take their Rottweiler, Zeus, with them. Ben made courses of action for a companion to deal with Zeus. Unfortunately, a couple of months after they had moved, the family gotten news that he had died. They were crushed to hear that.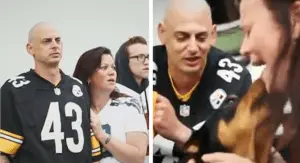 Following a couple of years abroad, Ben and his family ended up back in the US, where they at that point moved and settled down in the territory of Washington. Be that as it may, not long after, the got a call from a lady named Laura. The news she imparted to them was genuinely stunning. Laura had been living in a North Carolina neighborhood when she found a lost dog. He was a Rottweiler/German Shepherd/Chow blend.
Poor people's dog was sick and obviously depleted feeling terrible for him. Laura got him into her vehicle and took him to the vet. While at the vet, he was examined for a microchip and something returned:
"it was Zeus!"
Given his found personality, Laura utilized the data on his chip to get in contact with Ben. From the outset, Ben didn't trust Laura and educated her that Zeus had kicked the bucket. In any case, the more the two conveyed and Laura portrayed Zeus to him, the more that Ben was persuaded it truly was his dog. They made courses of action for Zeus to fly out from North Carolina to Washington, be that as it may, those plans had a wrench tossed into them. After the call, Zeus was determined to have heartworms, so it was considered hazardous for him to make the excursion via plane.
Be that as it may, there was a staff party at the Banfield Hospital who ventured up and offered to travel Zeus the 3,000 miles back to his family. What a brilliantly kind person.
It was never clarified why Zeus was asserted as dead to the family, or where he had been for the three years that he was absent. Be that as it may, the get-together among Zeus and his family was out and out uncommon.
You can watch the video beneath: