rottweiler puppy is a really special and caring dog. It is very protective and playful. Therefore, it is important to be very keen when choosing one. This is to ensure that you have the right breed. That is why the following steps are important to follow.
The first thing you should do is, find yourself the best breeder. Normally, an excellent breeder will tend to have very few numbers of puppies at a go. This will enable you to study the interaction of the puppies and the litters, thus, making it easy to choose. Be cautious of the hygiene of the place.
Meet Rottweiler Puppy Parents
After that, you need to meet the parents of the Rottweiler puppy that you are interested in. This is to give you an idea of how the puppy will grow up to be like. Traits like the size, any genetic health issues, temperament of the puppy can be easy to pick out. This step is critical so if the breeder is reluctant in showing you the parents of the Rottweiler puppy, it is advisable to leave and search for another breeder with a good reputation.
Next step is to be keen on how the puppy and the litter interact. According to the website "Your Purebred Puppy," it is important to choose a puppy that interacts well with others as compared to one that does not.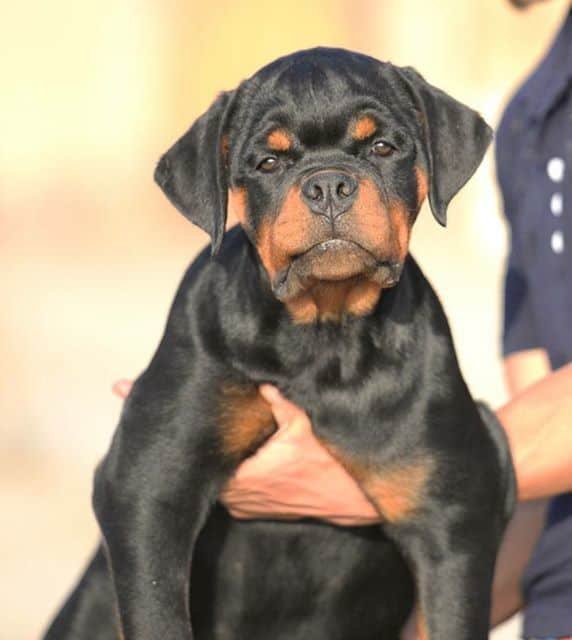 In the fourth step, you need to ask the breeder to allow you to spend some quality time with the Rottweiler puppy of your choice separately. This is to enable you to study the behavior of the puppy when it is alone. At this step, you will be able to know if the puppy is the one for you.
The next step is, to decide what type of the Rottweiler puppy you want. It is best to choose a puppy that has an in-between trait, normally one that is caring, friendly, trusting, and curious. It is not advisable to choose the ones that portray dominant or even submissive trait. This is to avoid any problems caused once you introduce it to your family members.
The last step on how to pick a Rottweiler puppy is to select the one that reveals all the traits of a Rottweiler breed. Some of the traits that stand out are the physical traits. These include the coat color, the ears, eyes, and the legs. For instance, the coat is normally black and shiny with the rusty and mahogany markings. The eyes are almond shaped while the ears are triangle in shape. The ears also fold in the forward and the down position. The legs of the Rottweiler puppy are straight and masculine. The behind legs are usually slightly longer than the front ones.
Video Source : Dianna C.