There has been a lot of controversy about sleeping with dogs. While some people agree to do so, some view it as a NO NO for them. We can't ignore the fact that many people have adopted the act of sleeping with their dogs. A recent survey that was conducted by AKC shows that almost 50% of people sleep with their dogs. A Harris Poll confirmed that when it yielded a higher result. This is why we want to express the advantages and disadvantages of sleeping with your Rottweiler on your bed.
Advantages Of Sleeping With Your Rottweiler
It Makes You Feel Relaxed and Boosts Your Sleep
Research has proved that been closed to your dog especially when you sleep makes you feel more relaxed and could make you have enough sleep for the recommended hours of sleep (6-8hrs).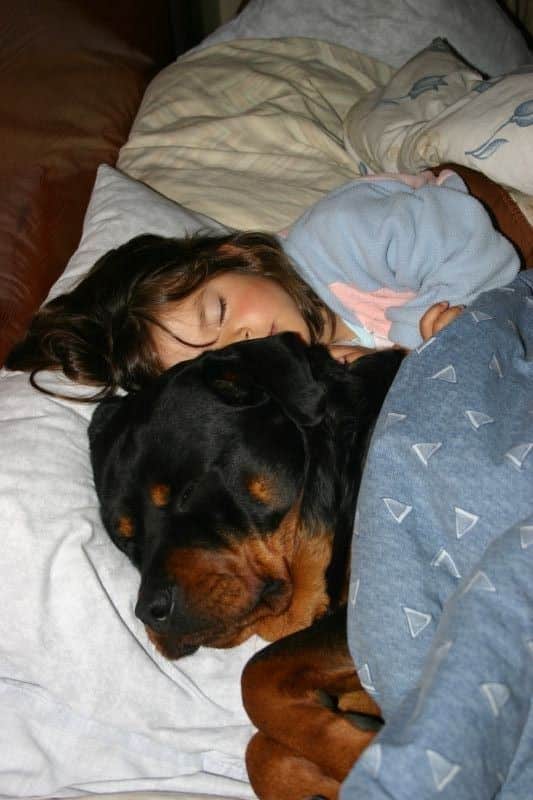 People who sleep with dogs feel more protected. They have confidence that they are safe wherever they are. This makes them do their normal activities with their heads held high.
It Makes You Have A Sense Of Belonging
Having a Rottweiler by your side makes you feel you have a sense of belonging. It makes you feel you have someone' you can't go a day without saying a word to or touching. It makes you feel you have someone' to take care of. This makes you have a strong sense of belonging and self-esteem.
It Makes You Feel Warmth
Honestly, sleeping with a dog makes you feel extra warmth. Their bodies are covered with heavy cozy fur and that generates heat very fast. It could be your savior' during winter when the nights are cold. And not forgetting when you are all by yourself in your home.
Great Company
Dogs offer great company when going to bed especially when you live alone or when you feel frightened. Dogs can be your go-to person when you need some extra comfort and company.
Sleeping with a dog enhances the human and dog bond increasing the chemistry between the two of you. The dog becomes more aware of your needs and you feel the same for your dog.
Improves Health After Surgery
Studies have shown that having to sleep with your rottweiler increases survival rates after major surgery. It brings that relaxing effect and bonding during that close contact with the patient. A dog that frequently comes to hug you and sleep with you at the same time reduces your risks of lifestyle illnesses like a heart attack.
Disadvantages of Sleeping With Your Rottweiler
There are risks associated with sleeping with rottweiler though not prevalent, they can be dangerous to humans. They include:-
Infection
Though uncommon, there is a risk of spreading a zoonotic infection from your dog to yourself. It is evident that about 90% of zoonotic illness is spread through having close contact with home pets.
However, a report suggests that a dog might transmit a zoonotic illness when they have poor hygiene or when their health is not up to standards. Ensuring your dog is always screened for illnesses and has optimum hygiene is the hallmark of preventing zoonotic illnesses.
A survey conducted in Australia by a scientist called Bradley confirmed that sleeping with your dog causes sleep deprivation. However, this study was taken negatively by people who slept with their dogs by saying the dogs didn't lead to sleep deprivation.
Could lead to Changes In Your Dogs Behavior
Allowing your dog in your cubicles could make them start being dominant or being more possessive which could make them lose their primary behavior. In such cases, its good to allow the dog to sleep with you but don't allow them to be possessive.