Rottweilers have a bad representing of being dangerous. But we think they're the cutest out there. Does this look evil to you?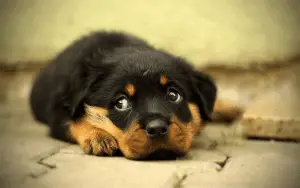 Rottweilers are considered to be a dangerous dog breed. Actually, it's also illegal to have a Rottweiler in some countries. And though it's legal in the US, it has a lot of rules and restrictions that you have to follow to keep a Rottweiler. So, it's time to change how we see Rottweilers.
These awesome black and brown cute creatures can be the sweetest if they are raised and trained well. You don't have to put a lot of effort though, just give them some love and spoil! And for sure, you'll get back what you gave twice.
Here, we're gonna tell you some myths about "Dangerous" Rottweilers:
1- They are dangerous for children.
In fact, they don't attack children just like any other dog breed! You just have to teach your Rottweiler and your kid how to deal with each other. And definitely they will have the best bond ever!
2- They are stubborn!
Some people believe it's impossible to train a rottweiler. While, in fact, they have a great history in working with humans as cattle drove dogs! They are also used as hunters and police dogs. It's all about the right training and consistency.
3- They are aggressive.
Give your dog love, and they will give you love back. It's that simple! You just have to know how to deal with it. It may seem hard according to their size, but in fact, they are not as aggressive as a chihuahua!
4- They don't like other animals.
No, they do. They just need an early age socialization program. So they can deal with each other, and they will be great friends.
Prefer Watching Videos?
See Related: Rottweiler Facts & Dispel The Myths!