One single, very important, thing that you need to know is that crate training your Rottweiler is not as difficult as you think it to be. Every animal loves to rest, and nest. So, if you can show them a place which is warm and comfortable, they will happily lie down in it. No squabble, no fight.
There are various forms of crates available in the market that would cater to the size and need of your Rottweiler. Remember, crate training your Rottweiler becomes paramount, for the Rottie would definitely choose either the enclosed one or the semi-enclosed one. This helps protect their eyes and you need to teach them to snuggle inside it carefully.
READ: Teach Your Rottweiler To Behave!
Also, crate training your Rottweiler is extremely important, because it puts them in a routine. One, where they would know what to expect throughout the day and not get unduly worried about it. But, it might get a bit difficult putting them in the crate in the first place. The trick is to open the door to the crate and leave it like that. Let the Rottweiler be Indiana Jones for a while!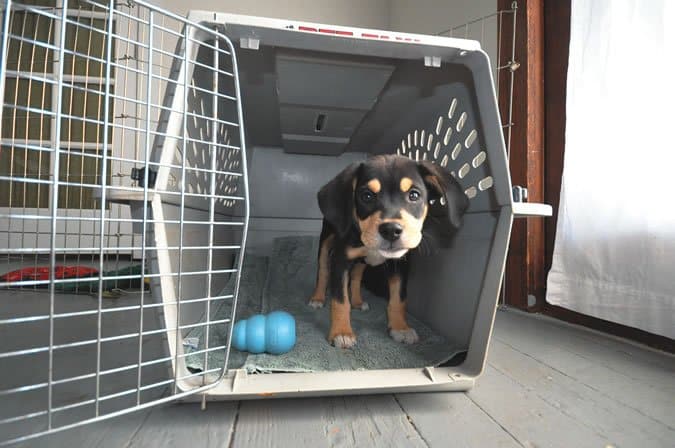 Keep a blanket, bedding, and a pillow inside the crate for your Rottweiler. Crate training your Rottweiler involves letting them sniff around the area and also putting some treats inside. Don't be miserly with your compliments- let them have it as they settle inside. They need all the encouragement that they can get.
When your dog snuggles inside the crate twice, you can slowly shut the gate, all the while cajoling them. After a while, you would see that the duration of the dog spending inside the cage has increased and they would be extremely comfortable in their own space.
The first time, make sure that you don't put your dog inside the cage for more than 2 hours. They will cry, whimper, and bark, but you need to hold yourself steady and not give in. As the 2-hour mark expires, take them to the washroom, and shower them with compliments as they go about their business.
READ: Remember These 4 Things Before You Hit the Road With Your Rottweiler
So, not only are you crate training your Rottweiler, but you are also teaching it how to pee outdoors. Once you have them all trained, head out to a road trip together!