You might remember the saddening story of a rottweiler known as Baron which was found a few weeks in Detroit. The thing that makes the story of this rottweiler saddening is that his ears and nose had been severed. The dog was found on January 18th by a good samaritan who called the Michigan Humane Society (MHS). The good samaritan was also saddened by the condition of the dog and wanted to get him the necessary help. Immediately MHS received the call from the good samaritan they rushed to rescue the dog and took him to MHS' Mackey Center for Animal Care. The professionals from the center did their best to patch the dog up and make him as comfortable as possible.
Video Source :Michigan Humane
Someone has intentionally maimed Baron according to Mark Ramos who is one of the MHS' lead cruelty investigators. Ramos further explained that animals also need justice and therefore it is important for people to speak up in defense of the animals that are treated in a cruel manner. A reward of $40, 000 was raised but the culprits have not yet been named. The professionals took good care of the rottweiler where they did constructive surgery on the dog's nose, ears, legs and tail. After six weeks of taking care of Baron the wounds healed and a new home was found for him.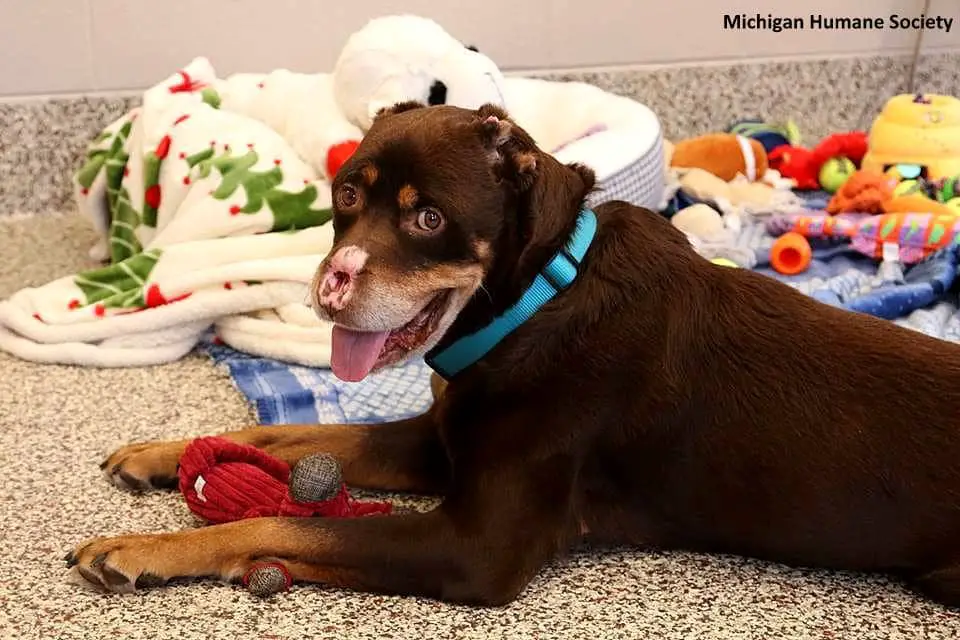 Baron was adopted by Lara who came across the tragic story of the rottweiler through a client. Immediately she learnt about the dog she texted her husband to let her know that they will be adopting the dog. Lara and her husband already had experience with a rescue rottie and therefore this was not a hard decision to make. They were both saddened by the cruelty that had been done on the dog and as a result they felt the need to provide the necessary care. Lara explained that she feels that the rottweiler is optimally happy especially considering that they bonded well on the first morning they met. We wish the entire family the best of luck and hope that Baron will have a happy long life.